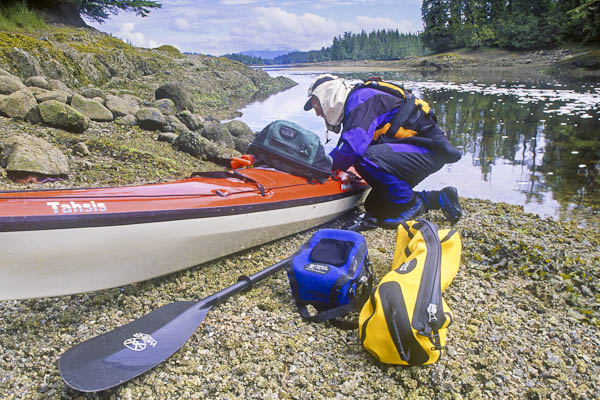 Probably my most frequently asked question is "How do you keep your camera dry while kayaking". In the 90's I had no pat answer for that, except for the gear I stowed in a Pelican dry box, and that gear was inaccessible while on the water, packed away in the stern hatch. I packed a desiccant—like the little packets that come with electronic equipment—to combat moisture. For active shooting on the water, I used Sundog dry bags. The Sundogs had a decent roll-up closure and a slim profile. They worked well as long as I didn't have much water in the cockpit, or worse, ended up swimming. Roll-up closures can leak surprising amounts of water in those situations, although the Sundogs were better than most (Sundog has since gone out of business). Today I still use the Pelican to safely stow photo gear, but for active photography on the water, my waterproof answer is Sagebrush Dry (formerly Sagebrush Dry Goods).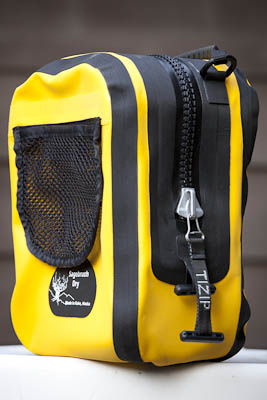 A small, mom-and-pop outfit, Sagebrush Dry moved their operation from Dillon, Montana to Kake, Alaska, a few years ago. Owners Robbie and Elaine Garrett love kayaking and the outdoors, so the move seemed to fit. They also seem content to keep the business small, with a focus on quality. They once made waterproof gear on contract for Patagonia until Patagonia took it off-shore. The machines to make high-quality, waterproof camera bags and other waterproof gear stayed with Sagebrush in America. Welcome to direct, hands-on experience in rain-drenched Kake.
I contacted Sagebrush in the fall of 2010 because my 8-year-old "Cam-Dry" camera bag seemed to be failing. The waterproof zipper kept splitting on closure, even after lubrication. Elaine at Sagebrush responded by sending me two new bags, a new large-size"Cam-Dry" (10"x 7.5" x 4.5"), and a "Kayak Nose Bag" that I asked for. Both had a new-style zipper that I was eager to check out. Fpr the large "Cam-Dry", my Canon 5D II SLR with 17-40mm f/4L or 28-135mm f/4-5.6 lens fits easily. Longer lenses probably won't fit, nor will the bulkier professional bodies like the 1D/1Ds.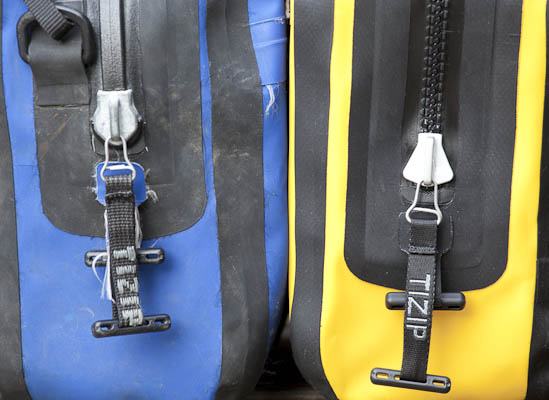 I most often kayak with two camera dry bags in the cockpit: one camera with a wide-angle zoom and one with a telephoto zoom or fixed focal-length lens. By 2000 my Sundogs, after 6-8 years of use, patched and Aqua-sealed again and again, were failing. I came back from more than one trip with salt-water-soaked inner padding. Luckily my cameras survived. As I searched for a permanent solution, I mostly put padded camera bags inside standard dry bags, a bit of a risk because they were roll-up closures as well. I considered the Pelican-type boxes too awkward for the foredeck, and too cumbersome in the cockpit.
Then Sagebrush Dry Goods came along, saving my bacon before disaster struck. I was mightily impressed. I wrote a review of the Sagebrush "Cam-Dry" camera bag for Sea Kayaker magazine (Feb., 2004). By then I had three Sagebrush bags. The most useful—for me anyway—were the padded "Cam-Dry" and the unpadded "Sure-Dry Hip Pack". In 2004 I added a fourth, custom-made, bag to house my 500mm f/4. That bag gave me the confidence to photograph wildlife from the kayak with big glass. A stretched version of their large "Twin-Center" bag would get you close to the same thing.
I see several keys to the utility of Sagebrush Dry waterproof bags. They use a tough, urethane/nylon material, similar to the material Feathercraft uses for their folding kayaks. The bag seams are re-enforced and radio-welded, not taped. Taped seams may last a few seasons. Radio-welding seems to last for a decade or more. Finally, a TIZIP waterproof zipper is employed. Recent bags use an innovative new zipper—TIZIP MasterSeal 10—the same zipper that's on my new bags.
I tested the new bags by adding 10 lbs. of weight, and submersing them 16" deep in a bucket for an hour each. No air bubbles rose from the bags, and the bag interior was bone dry after the test.
Importantly, I also tested my eight-year-old Cam-Dry, a bag that the zipper had been splitting on closure. Note that it's important to periodically lubricate these zippers with a provided silicone lubricant, and also to avoid stuffing a bag with a camera or other gear that's too big. That said, it appears I jumped the gun in retiring the bag. I had applied silicone grease to the zipper back in fall, but immediately after the zipper split while closing it, unless I was careful and "pinched it" together during closure. And while this might be a reasonable procedure on a calm sea, it was a challenge I couldn't accept for paddling in ocean swell or swift currents. In any case, weeks later the grease must have worked its way in. The old zipper now opens and closes pretty well. I tested the old bag by submersing it deep into the bucket. After an hour, its insides were also bone dry. I should say as well that the tough bag material has never needed to be patched. Looks like I may squeeze out another season with it.
The new TIZIP zipper is a little more flexible then the old one, a bit easier to open and close, and may be more resistant to splitting. It employs the same handles—one on the zipper and one at each zipper-end on the bag—to open and close. Like all waterproof zippers I'm aware of, it also needs periodic lubrication.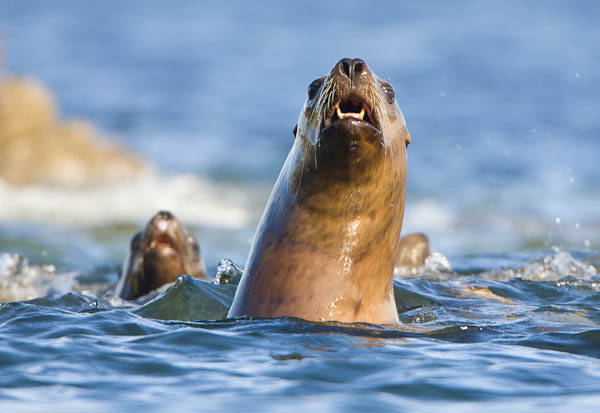 The Cam-Dry comes with a shoulder carry strap, external mesh pouch, and belt loop. Inside, protective padding is velcroed to the skin. Photographers looking for a bigger, padded bag should consider the Sagebrush "Hip and Deck". For a deck bag, though, I like the smaller profile of the unpadded "Sure-Dry Hip Pack". In use on the foredeck, I hook the belt strap  under bungie. The "Hip Pack" also conveniently doubles as a waterproof belt pack, useful in the rainy Northwest or for fording streams, etc. In general, Sagebrush Dry bags are safe like a dry box and nearly as robust, but without the rigid shell and the higher risk when opened. They'll keep your camera dry while it's sloshing about in the cockpit on a worst-case, all-day, storm-paddle.
Sagebrush Dry makes dry storage bags, belt packs, padded deck bags, fishing, hunting and other waterproof gear from the same materials and technology (discussed above). They can be reached at www.sagebrushdrygoods.com or 1-877-221-2329 (907-785-3329).
Gary