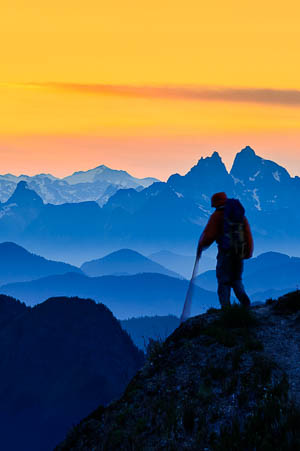 Updated 2018/01/25. All photographers need tools. Away from home, a hotel stay invites a big toolset; a car camp likewise. A moderate-volume sea kayak with oval hatch openings can carry the gear you need. With backpacking — or with minimalist-type sea kayaking — it's essentials only.
Below is my current backpacking camera gear list for the Sony a6300, which for backpacking has replace my Canon 5D Mark III. The a6300 takes generally better pictures compared with the 5D III, weighs only 14 ounces, and, with the 1.5 crop factor and mirrorless design, allows for smaller, lighter lenses. An a6300 downside is slightly higher noise compared to the 5D at high ISO's, about half a stop, but the Sony has better dynamic range for more usable detail in the shadows. My two lens systems consists of the excellent-value Rokinon 12mm f/2 and the Sony 18-135mm F3.5-5.6. The zoom is a light-weight 11.5 oz, and together with the 12mm gives me a nice focal length range from 18 to 202mm (35mm equivalent), good wide coverage for scenics and and a short tele for wildlife.
As I've often said in the past, I no longer carry split ND filters, preferring to take two to several exposures for combining in Lightroom (or Photoshop). Another weight saver is my wood panorama tool, which simplifies single-row vertical pans while allowing close foreground elements that blend smoothly when merged. Technology keeps pushing what's possible in the remote backcountry. We live in exciting times.
I don't have a specific sea kayak camera list. Sea kayaks can carry a lot of gear, and my equipment changes to meet the needs of the trip.
Backpacking Camera Gear List
Getting quality shots on backpack trips is a game of ounces: how much gear can you carry into the wild; how far are you willing (or able) to carry it. Optimizing a shoot almost always means an SLR (or mirrorless) and tripod, but it also demands trekking lightly. Forget about covering all contingencies — think 80-20 rule. Sometimes you should just take one lens.
For three-season backpacking, my pack weight is about 22 pounds for a 3-night trip: 11 pounds for pack, clothing, shelter, stove, etc.; 5.5 pounds for camera gear; 5 pounds for food. I wrote about light-weight backpacking photography in the 2009/10 tip, with an update in 2010/11 and 2012/01. Here's my current backpacking camera list based on the Sony a6300.
| Camera gear | Weight (oz) |
| --- | --- |
| Sony a6300 | 14.2 oz |
| Batteries (3) | 4.8 oz |
| Rokinon 12mm f2 | 9.9 oz |
| Sony 18-135mm f3.5-5.6 | 11.5 oz |
| Polarizing Filter | 2.0 oz |
| Vello Freeware remote | 3.0 oz |
| Cleaning cloth | .4 oz |
| Tamrac Jazz Zoom 25 camera bag | 5.4 oz |
| Oben CT-2331 tripod | 22. 6 oz |
| Oben BE-108 ballhead w/Newer FXC-25 | 8.1 oz |
| Newer PU-70 plate | 1.7 oz |
| Wood pano tool | 2.7 oz |
| cloth bandana | 1.5 oz |
| 64GB SD card (1) | .15 oz |
| Total: | 87.9 oz |
| | 5.49 lbs |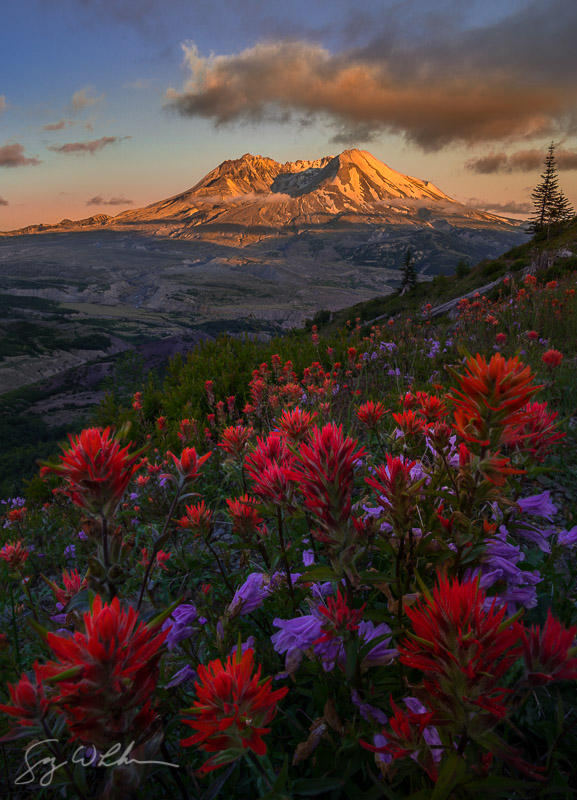 Gary