Photographing elk is much like other wildlife photography, in that background is often key.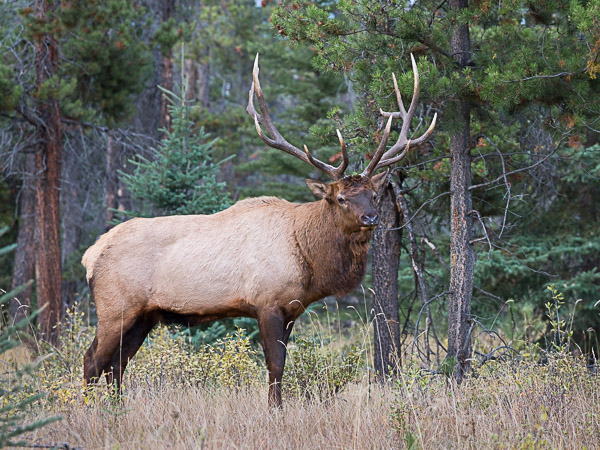 Early in October I was in Jasper National Park, Alberta, waiting for the weather to break for a planned kayak paddle of Maligne Lake. While I waited I met a friend, Norm Dougan, by coincidence, and for two days he graciously showed me the Jasper-area bull elk. We stayed in Whistler campground.
Before dawn each morning, Norm drove over and picked me up, and, fueled by coffee and the excitement of the elk rut, we patrolled the roads around Jasper looking in earnest for big bulls. Norm&#8212an ex-hunting guide — quickly located worthy subjects, pointed out antler symmetry ("nice, symmetrical 7×7") that would have escaped me, and got us positioned to take best advantage of ephemeral situations.
Photographers migrate to Jasper to photograph elk for good reason. The resident elk population are acclimated to people, not hunted, not likely to run off with a zigzag approach. For backdrop, we have the breath-taking Canadian Rockies. And then the elk antlers here average the biggest on the continent. The challenge is to make the most of these advantages.
By early October, most pros had moved on. The remaining photographers, only a half-dozen or so, for the most part bunched together. I noticed Norm moving about a lot, seeking better angles, anticipating movement, looking for background that can separate the killer shot from the throw-away. I did the same, much more so the second day than the first. My advice for photographing elk: stay safe, get low, anticipate movement, keep thinking and pick your backgrounds — don't let the elk pick the background for you.