After a long, long wait, I finally found a tripod that matched my spec for light-weight backpacking. I shoot while backpacking with a full-frame, Canon 5D Mark III, with lenses that range from a 14mm f/2.8 to a 70-200mm f/4 zoom. Body and lens, this is demanding stuff for a light-weight tripod. My criteria list for a backpack tripod was three-section, 45" height without using the center column, weight less than 2 lb., 8-lb or greater load capacity, and, finally, cost near $200. Quite a few tripods meet four out of five. The Chinese-made Oben CT-2331 passed muster on all five (pretty much), and has a few bonus features as well. I bought the Oben CT-2331 tripod and Oben BE-108 ball head from B&H for $256. The Oben CT-2331 alone is $199.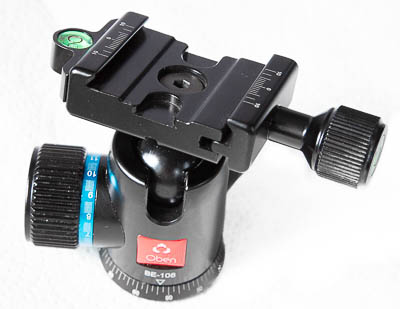 First, the ball head. The BE-108 has an Arca Swiss-style quick-release (mandatory), weighs 9 oz (256g). It's a nice, small and light ball, with all the features I need, and it performed just fine for horizontal images, my Canon 5D III mounted with a variety of small-to-medium f/4 lenses. It proved not quite adequate, though, for shooting verticals, i.e., for tipping my Canon 5D III and 24-105mm f/4L 90⁰, with all that added moment-arm on the ball. In the field, tilting 90 caused the ball to slip unless I really cranked on the locking knob. I'm not saying it can't be done, but it's just not reliable for verticals from a full-frame dSLR and zoom. If you had an L-plate, that would resolve the issue, but for backpacking adding an L-plate is another piece of kit to carry at a weight probably greater than the difference between a heavier, adequate ball and the light-weight Oben. I'm certain a larger Oben ball like the inexpensive, 13.4 oz. BE-117 would work, but I'll stick with my 13 oz (375g) Markins Q-ball — the best, reasonably light-weight travel ball head I've found.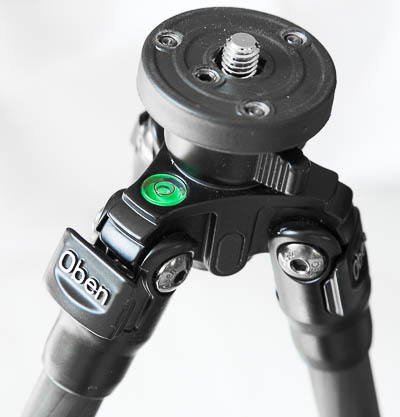 On to the tripod. The spec weight on the three-section Oben CT-2331 reads 1.65 lb., but I removed the center column (and the rubber spike covers) for a 1.41 lb (639g) weight (yahoo!!!). Height without the column is listed at 45", but they actually reach 44.5", and that's only achieved by a rather narrow spread of the legs that boosts the height an extra inch or two compared to my more-normal-leg-spread-angle Feisol and Gitzo tripods. Sigh, we'll give it a pass anyway. The Oben legs look beautifully manufactured — a silky-smooth carbon finish — but they're also skinny. On my first field use I joked that the tripod wouldn't last long. I suppose it will if I'm careful not to lean too hard on it — or use the legs to fend off a bear. Still, 1.41 lb!!! And it's less rickety then the old 00 Series Gitzo tripods that Galen Rowell favored (I owned one of those in the '90's, too). Technology continues to advance.
The tripod has a center column that gets the height to 54", but there's no way it will hold a dSLR like my 5D III stable while extended. No surprise there; any light-weight tripod would be inadequate, and tripods in general act more like monopods with the column extended. The center column secures to the tripod with a tiny Allen-wrench-operated screw. I took the center-column off; not going to carry it. For photographing in wind or on soft ground, the center column has a hook on the bottom that could serve to add weight for stability, but, alternately, you could drive the spikes down in the ground, or simply pin a foot in place with your hand or foot on unstable or windy terrain.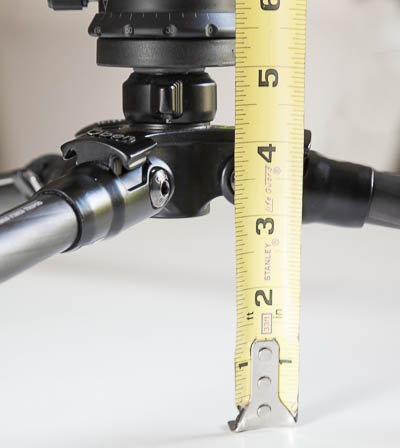 A big disadvantage of removing the center column, which is grooved, is the base then has only small friction resistance to rotation. I found this bothersome, but not a serious issue.
With the legs splayed, the tripod doesn't lie flat, but the minimum height (without the center column) gets pretty low at 5-3/8". The tripod folds to 20.5". With my Markins ballhead attached, total folded length is 23.5"; this height isn't an issue for backpacking. I prefer three-section to four because it's one less joint to deploy and maintain. Spec load capacity is 8.8 lb.
The built-in bubble level on the base is a nice touch. Bubble levels are a necessity to level a tripod for panoramas. Including one means I don't have to carry a separate hand-held level into the field.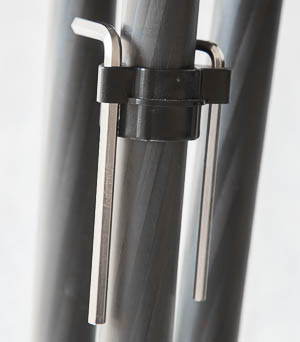 The tripod comes with a padded, zippered case, which I doubt I'll ever use. Also supplied are Allen wrenches for maintenance, and a handy clip to attach them to a tripod leg. One wrench also fits Arca-Swiss quick-release plates, so it does double duty.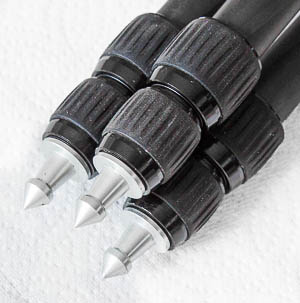 The spike feet have rubber caps for use on hard surfaces. For backpacking, the spikes serve really well. On soft ground — thick grass, moss or muck — shove down the legs for stability, especially important given the lightness of the rig.
In the field, the Oben CT-2331 has performed flawlessly. The legs move in and out with the right amount of stiffness, and the twist-locks to secure the leg position lock and unlock easily, though their diameter is a bit small because the legs are so skinny. Because it's top-heavy with a dSLR mounted, extra care is needed to be sure the camera is balanced on the legs when setting it down; tip-over potential may be higher than other tripods. Most important, I use a lot of slow shutter speeds, including in the 1/60s-1/4s range where mirror slap or shutter vibration can be an issue. My images have non-the-less been sharp as a tack with the Oben CT-2331 tripod plus Markins head. I feel I've saved a pound or more with no image-quality loss, for backpacking or wherever a fast and light need arises.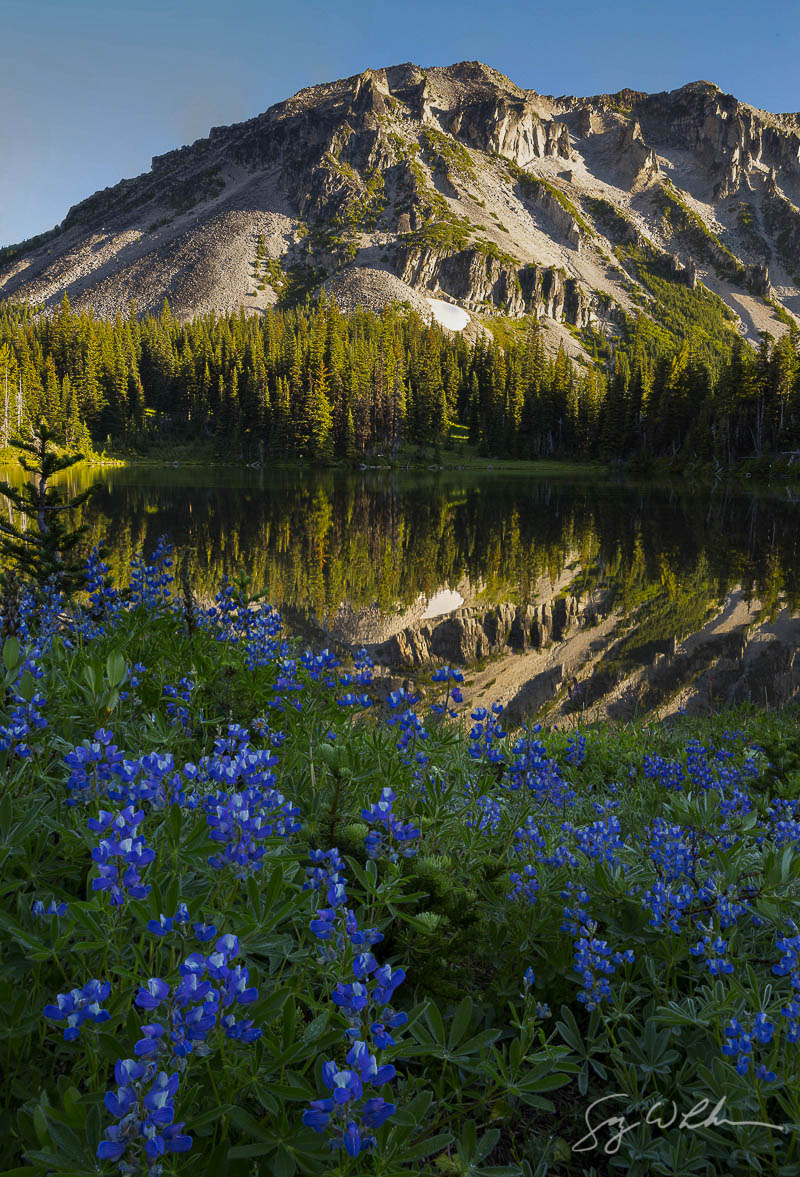 Gary