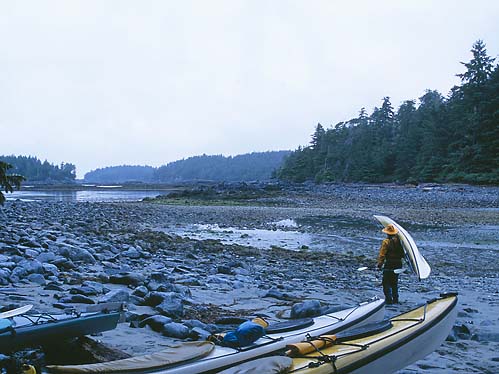 The Northwest (US) where I live features some of the planet's grayest skies, a nightmare of gray on gray for sometimes unending weeks at a time. In summer, on the coast, it mostly ruins photography while kayaking, but those same gray sky conditions present opportunities as well. Just ask Ansel Adams.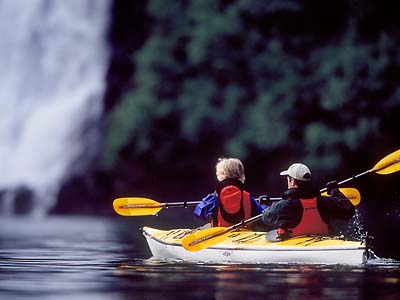 A gray sky provides even light, like in a studio. It's excellent light for people portraits and camp scenes. Colors pop in flowers and forest floor. There's no worry about harsh shadows. The trick is to use that even light, but not show it. Here's three ways to do just that. While on the water, especially from a kayak, use a telephoto lens to narrow the field of view. Zoom in to show only the subject, with an out-of-focus hillside or shoreline behind that blocks any view of the uninteresting gray sky. Extra points for getting the heads or faces of the subject(s) off the horizon line by getting low while shooting.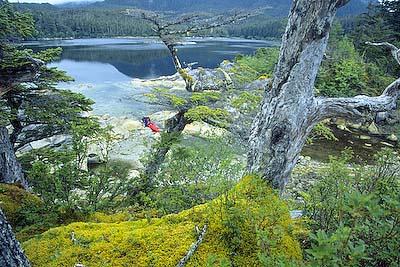 A second way works on shore, by climbing up above your subject. Now you can go wide. Get rid of the sky by shooting down on your kayak companions, camp, or scenic view, and stop down a bit to get every detail in focus. Add a polarizing filter to boost saturation; make the colors pop. The resulting image will shout color and texture.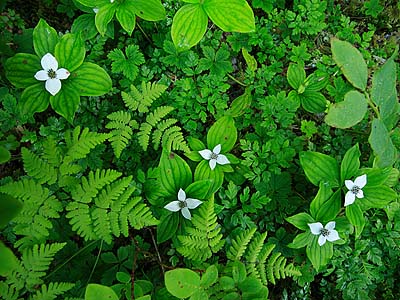 A third option is to head into the forest, where the soft light paints rich colors and textures into the scene, great for floral portraits, close-ups of tree-bark or toadstools or a panoply of green-on-green foliage.
Use a tripod while ashore, and stop down enough to keep relevant compositional elements in focus.
Gary