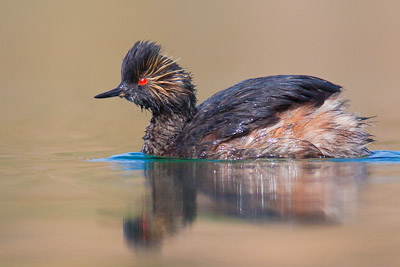 Two years ago, I wrote about photography on a longish kayak trip (Ten-day Power Trip, 06/2009) in Baja, a trip without the ability to charge batteries. My solution then was extra batteries and plenty of flash memory, coupled with judicious use of those resources. A solar charger didn't make sense—the trip wasn't long enough—and a portable hard drive for back-up I thought was unnecessary. You can buy a lot of simple compact flash or SD memory for the cost of a hyperdrive-type backup.For a kayak trip or extended backpacking, the flash and battery strategy makes sense. Field work is simplified. Editing is done after-the-fact back in the office. Field time spent editing is expensive time, and mostly inappropriate—especially in a remote place like Baja. You miss opportunities if you're holed up in a tent editing. Photo subjects show up—or are discovered—day and night if you're looking.
This month I'm preparing again for the same Baja trip, again going around Isla Carmen, and once again with Sea Kayak Adventures. It's a ten-day, 60-mile circumnavigation that starts and ends at Puerto Escondido, 15 miles south of Loreto. My gear plan is much the same as two years ago; I'll lay that out here. Just as important is a photo plan; I'll get to that next month.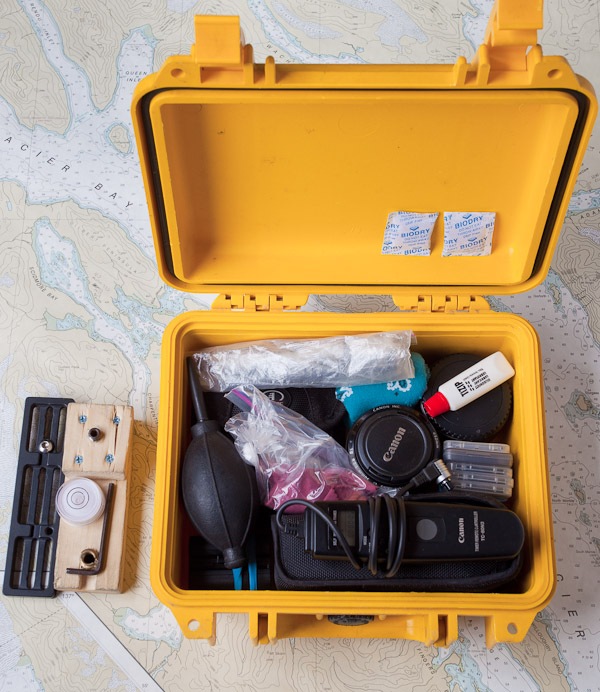 Here's my photo gear list for the Baja trip:
Camera Gear
   Weight

Canon 5D Mark II
Canon 7D
Batteries (5)
17-40mm f/4L
70-200mm f/4L
300mm F/4L
50mm f/1.8
1.4x tele-extender
25mm Extension tube
430 EX Speedlite Flash
Sock (lens padding)
Tamrac pouch MXS5363
Polarizing filter 77mm
Polarizing filter 67mm
6-stop ND filter 77mm
TC-80N3 remote
Cleaning cloth
Ewa-Marine U-BXP100
Lead weight
Pelican mini S case
Feisol 3301 tripod
Markins Q3 ballhead
Markins plate PL-15
Wood pano tool
cloth bandana
Silicone lubricant
Hurrican blower
CF cards (8)

28.6 oz.
28.9 oz.
14.5 oz.
16.8 oz.
25.0 oz.
38.0 oz.
4.6 oz.
8.0 oz.
4.5 oz.
12 oz.
2.0 oz.
2.5 oz.
2.0 oz.
 1.8 oz.
 1.8 oz.
3.0 oz.
 .4 oz.
  N/A
  N/A
30.0 oz.
4.0 lb
2.65 lb
43.0 oz.
13 oz.
2.5 oz.
3.5 oz.
1.5 oz.
1.0 oz.
1.6 oz.

  5.6 oz.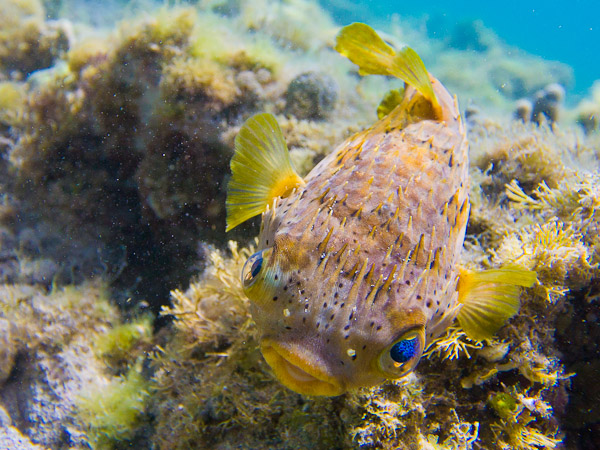 The listed gear will enable me to capture just about everything. On the water I'll have two camera dry bags (the Sagebrush bags), one with my 5D II and 17-40mm lens, the other with my 7D and either a 300mm or 70-200mm. The bag holding the 7D can also accommodate whichever lens is un-mounted in sock padding.  If I need to change lenses on the water, I can. The Ewa-Marine houses my 5D II and 17-40mm for underwater shooting; the lead weight gives it a slight  negative buoyancy. I can also use a camera-mounted flash underwater as an option. Snorkeling in the Sea of Cortez is everyday fun.
Baja is Sonoran desert—like much of Arizona—with just enough rain to sustain an exceptional variety of prickly life. Much of that life is small critters and well-defended flora. The extension tube allows me to get close-ups and details of the parched-climate arms race.
I could take a bigger Pelican box (I also own the 1400 model), but I'm going small with the Mini S (1200). The one other lens I'm taking is the 50mm f/1.8, "the cheap 50". I'm hoping to score some night sky shots with it, taking advantage of its bright 1.8 aperture.  The TC-80N3 will allow for long-exposure bulb shooting.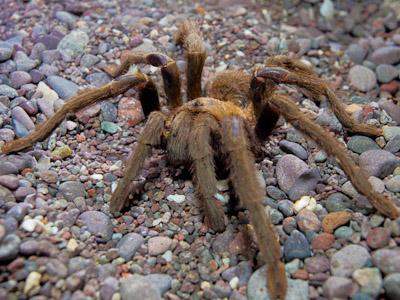 The ND filter is for long exposures to meld water on lapping shores. The polarizing filters cut glare for scenics, and for saturated color in critters such as Sally Lightfoot Crabs. They are also useful for peering into the Sea from above.
The silicone lubricant is for my Sagebrush Dry zippers; Baja's a dry place, so the zippers may need an "in-service" lub job to avoid drying out. Other gear—cleaning cloth, blower brush, etc.—should be pretty obvious.  I'll also bring a couple desiccant packs, though in Baja's dry climate they aren't essential.
Another necessity is binoculars—my 8×32 Eagle Optic roofs. They  will be a constant companion strapped around my neck, and tucked under my PFD while on the water. I can't imagine a trip without them. 8×42's would be better (I have those too), but the 8×32's are more compact.
Important as well is what not to bring. The old adage, "the more you know the less you need", applies especially to long trips. The camera manuals stay home: No 5D Mark II manual, no 7D manual, no 420EX flash manual, no manual for the TC-80N3. Also no split ND filters, once a mainstay. I prefer taking two (or more) tripod-mounted exposures, two or three-stops apart, and combine them later in Photoshop.

Gary