In recent years while backpacking, I stowed my Canon 5D in a Tamrac 3330 Aero Zoom30 (7½W x 5D x 8H external). The 7 oz. bag is the lightest I've found that meets the need of housing a full-frame camera with zoom lens attached. It's cheap at $20 (Amazon). In the field, I use the chest strap of my backpack like a chest harness, slipping the strap thru the belt loop of the bag so the camera sits chest level at the ready. A downside of the 3330 is it's so small and tapered that I can't keep the lens hood mounted while the camera is stowed. So when I take the camera out of the bag to shoot, I re-attach the hood, and then take the hood off again to stow the camera. Additionally, the bag isn't waterproof. That's ok for a brief shower, but woefully inadequate for pineapple-express rain, especially worrysome on multi-day adventures.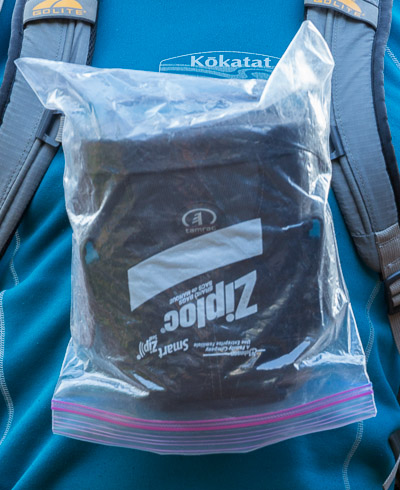 One waterproofing solution is to cover the Tamrac with a gallon-size Ziploc freezer bag (.5 oz). The Ziploc slips on over the top, a perfect fit. By cutting slots for the belt loop — just barely compromising the waterproofing — it's a light-weight solution. The downside is getting access to the camera. It's possible to slip the Ziploc off over the Tamrac cover, extract the camera and shoot. Alternately, I un-clip the Tamrac from the chest strap before dealing with the tight-fitting cover.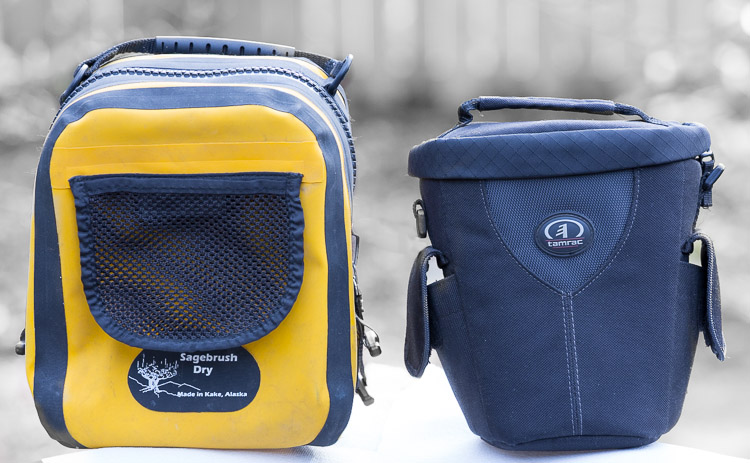 Protection that solves the waterproofing and lens hood problems, but adds 3 oz is the Sagebrush Dry Cam-Dry. The (10 oz.) large size is 7.5Wx 4.5Dx 10H (external), and it's not tapered. The shell is a tough, waterproof urethane, the seams are welded, and the Tizip zipper is waterproof. If you're headed for extremely wet environments like creek exploring and need to tote a dSLR camera with zoom, the Sagebrush Cam-Dry ($115) is a solution for that as well.
The Cam-Dry bag holds a dSLR and short zoom with the hood attached because the bag is taller, wider and it doesn't taper. A belt loop allows attachment with the backpack chest strap, but the vertical facing zipper does risk some water entry when opening for access in the rain.
I use the Cam-Dry for all my kayak adventures. It's likely to see use on backpacks as well.
Gary