A 4-wheel tour of Canyonlands National Park's remote Needles District, and a rain-drenched raft trip of Catatract Canyon — with Tag-A-Long Expeditions.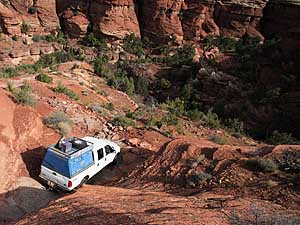 October, 2006. Moab, Utah. On a two-night trip sponsored by the Utah Office of Tourism and the Moab Area Travel Council, surprises came early. The first morning we traveled by 4-wheel with Dave Pitzer of Tag-A-Long Expeditions to the Needles District of Canyonlands National Park. In route we passed Newspaper Rock, the best drive-to petroglyph panel in the area and very photogenic. I made the snap decision to photograph the panels with three images from separate tripod positions. An easy stitch-together in Photoshop created a seamless, 9,000 pixel-wide image of the panel.
The Needles District is a tough enviroment to reach. For backpackers, it's a day's hike to remote camps, and you have to carry all your water. Options narrow: carry in a few gallons (1 gal. water/day), set up a base camp, and be forced to leave after two nights. Or, do what we did — access the area by 4-wheel. We drove over Elephant Hill, set up camp at Devil's Kitchen, and hiked the Chesler Park "Joint Trail" that afternoon. In a bit of ill-luck, we lost the sun in the evening as a front rolled in just as the light warmed the Cutler Group sandstones.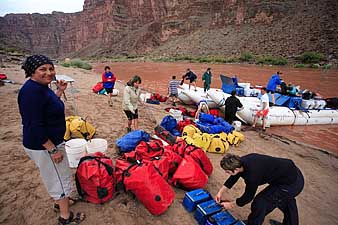 A lovely, 5-mile hike the next day took us to Spanish Bottom, in Cataract Canyon on the Colorado. We joined guide Bob Jones and a Tag-A-Long raft trip beneath layers of ancient canyon rockfaces. We splashed and bounced through about half of Cataract's numerous rapids, then pulled ashore above Mile-long to make camp.
Rain pelted the tents that night and the gusher continued without let-up the next day. Gliding downriver to the Hite take-out, red waterfalls blasted from clifftops like fire hoses. It was Yosemite falls in stark, muddy red. Cascades, gushers, cataracts, funnels. A thousand Angel-hair mists blowing in the wind. Bob pointed out the most impressive of them, as their number and volume overwhelmed us. It was unforgettable.