One weekend a year, the board surfers yield famed Steamer Lane to kayak surfers.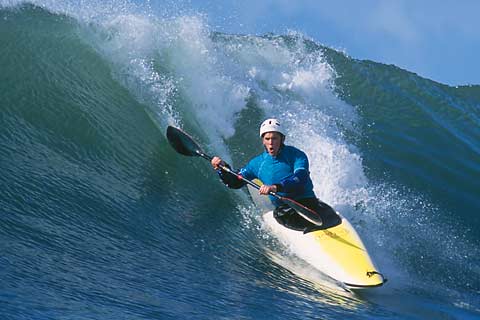 Santa Cruz, CA. The March 22-24 Santa Cruz Kayak Surf Festival began with wind-whipped waves and penetrating rain. The swell was moderate, a good test for the field of competitors  that arrived from as far as Jersey (off the coast of France). By Sunday, the storm was gone, and bright, glistening waves curled around the Steamer Lane point break. The Sunday morning photography was exceptional.At cliffside, vendors displayed kayaks and gear under tents, with surf contest viewing as good as it gets. And if that wasn't enough, a continuous wildlife show of sea birds, seals, sea lions and sea otters often aced out  the kayakers for attention.
Click on the thumbnails above for images of kayak surfing at the festival. Check the Adventure Sports Unlimited website for the complete 2004 competition results.