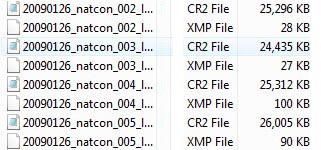 Like many folks, I wasn't even aware of the DNG (Digital Negative) format for Raw files until I started using Adobe Lightroom in 2007. DNG is a publicly documented, open-source Raw format developed by Adobe, and a response to a potential format management quagmire that may evolve as camera manufacturers use and discard proprietary formats, now numbering in the hundreds. A future laden with obsolete, no longer supported formats would be an archivist's nightmare. Think of your own photo library, 20 years on and needing a maze of software to look at old images. A universal Raw used by everyone would be fantastic for photographers. And wouldn't it be cool to use any software to develop those Raw files?  So far the big boys aren't playing. Hassleblad, Leaf, Leica, Casio, Ricoh and Samsung and Pentax are supporting DNG in some manner, but not Nikon, Canon or Sony.Of course, Adobe could be likened to an image processing 400-lb gorilla (like Microsoft is the 800-lb software gorilla), and isn't a neutral party. There is need for a standard, though, and nothing else out there is remotely tenable.I read Adobe's DNG info  not long after adopting Lightroom as the center for my workflow.  I liked the benefits of smaller file size, and getting rid of the messy XMP sidecar files. With DNG, the original Raw image data, the metadata including your develop recipe, and (usually) an  updated preview that shows the processed image are all in the same wrapper that averages 17% smaller in file size for my Canon 5D II. I like these efficiencies. You could hedge your bet by using an option to preserve the original Raw file whole within the DNG. Then you get streamlined and archival benefits, but it balloons your file size by more than double. Some photographers appear to be saving the proprietary Raw on DVD's, but convert their hard drive library to DNG. I decided in '07 to dump the proprietary Raw. I shoot Canon, and I haven't used the Canon software since (now going on two years). In opting to delete the original Raw (.CR2) files, though—the bottom line is—I can't go back.

As I understand it, the chief downside with going DNG (and discarding the originals) is that unless your camera manufacturer offers a DNG option, you lose the ability to use their software. My full conversion to DNG means I can't use Canon's DDP or ZoomBrowser. So I lose out on some metadata. Although Adobe claims that the DNG Converter takes all the proprietary metadata from the original and "safely moves it to the private portions of the DNG", I can't read all of that information within Lightroom—information, for example, like the auto focus points. I also lose proprietary software features like DDP's dust spotting, and maybe lens profiling and automatic vignetting features and the High ISO Noise Reduction now also offered in DPP. Too, Canon's been pretty good at inventing things that I haven't imagined (like image stabilized lenses, OD lenses, or their great trio of tilt/shifts). I can't imagine what they'll brew up in the future. Still, while not trivial, I find my loss a small thing. I'm so enthralled with the Library and Develop features of Lightroom, I never bothered to load the Canon software for the last two bodies (40D and 5D II) I purchased.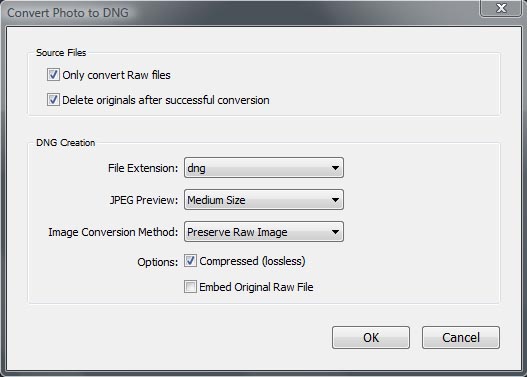 I did a Lightroom 2 presentation at a photo meeting last month, and I stated that I convert my Raw files to DNG, and discard the originals. Someone asked if there was a downside. When I stated you lose the ability to use the manufacturer's software,  that ended the discussion for the questioner. She said if she went DNG, she'd embed the original, but probably wouldn't do it anyway. What else—she may have thought—is lurking if you commit to DNG?  Although Adobe is not likely to away, nor is DNG, neither are Canon and Nikon. One of the best arguments I heard for not converting is this: "I can convert at any time, so if and when I see a danger lurking, I'll covert then." Just be sure you stay on top of it. I've got a pile of floppy discs in my desk drawer, and no drive to read them.
Gary