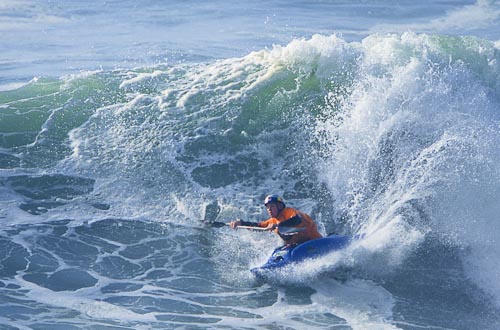 In 1999 I made my first visit to the Santa Cruz Kayak Surf Festival, held annually at the world-renowned point break Steamer Lane in Santa Cruz, CA. It's a lovely venue, and perfect for spectators who get a close-up view from the cliff that abuts the action. I shot film with a tripod-mounted telephoto that year, getting some lame  stuff.  I wasn't thrilled with what I saw in the viewfinder. Peering down at the kayakers that first morning, I wondered if it was possible to photograph the competition from a kayak. In 2001, I was back, determined to give photography from a kayak a go; totally unsure whether it could work. My camera gear isn't waterproof, and dodging breaking waves would be risky business.
What got me going on this was a matter of perspective—what angle, what position, what elevation, what field of view or lens choice would yield a worthy photograph. It was pretty obvious that photographing kayak surfing—or surfing generally—at Steamer Lane from the cliff had disadvantages. Plenty of photographers there do it, often with a super-telephoto 600mm f/4 or even a 400mm f/2.8 lens. I have a 500mm f/4, almost as good but hard to compete with the bigger guns (the 400m f/2.8 with a doubler gets you an 800mm f/5.6; the 600mm f/4 w/1.4x is a 840mm f/5.6. If I put a 1.4x on my 500mm f/4, I get a 700mm f/5.6). The cliff-side photographers also seem willing to spend all day shooting. If this yields great stuff, how can you compete? Well, their problems abound. The cliff at Steamers faces southeast, so in the sweet morning light images from the cliff will be backlit, and that continues through much of the day. Then you're shooting down on the surfers, flattening the waves and making big waves appear small. In the afternoon if the tide is low, it's possible to shoot frontlit from the beach below the cliffs as the sun descends to the west, but that just exemplifies a third problem.  The waves break away from you as they bend around the point, scratching any chance of getting a kayak surfer wrapped in the energy-pumping curl of a breaking wave. You can shoot all day from cliff-side, and never—putting it bluntly—get the shot.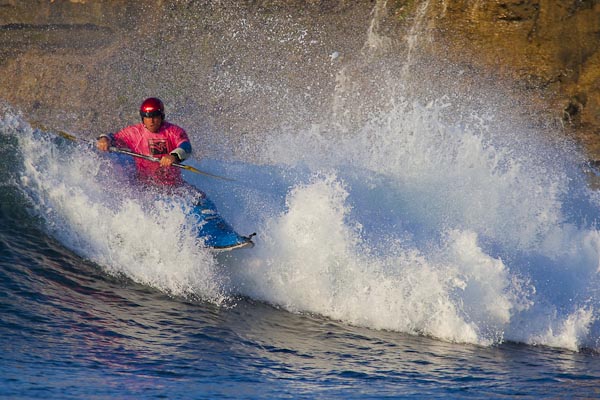 Gaining perspective in an action sport isn't easy. With surfing, you have moving subjects, changing wave sets, changing light. We don't have the luxury to glue the camera to our eyeball and roam around until we see that unique angle that makes us say, "Wow. This is the shot". But pick your poison. The best surfing photographers all get into the sea to be close to that wave-curling energy. I found photography from the kayak do-able at Steamers, so I've been there for the March event in 6 of the last 9 years. With a 300mm f/4 lens it's possible to capture a large chunk of the action, stay out of the surfer's way, and not—knock on wood—get trashed.
Kayak surfing images don't sell well, but the high-energy perspective I found at Steamers has won a few calendar shots and double trucks (two-page spreads) for me over the years. The surf this year was abysmally small—no curling waves—but the light the last morning popped with the sunrise. I got a handful of images  I'm pleased to market, thanks to finding the perspective that best yields the shot.
Gary