We cannot display this gallery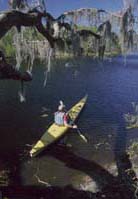 I was in Florida in February, 2000, to photograph birds and to kayak. South Florida stops included Ding-Darling NWR, the Venice Rookery, Myakka State Park, Corkscrew Swamp Sanctuary, and Everglades National Park. I kayaked at Ding, Myakka and the Everglades. I also visited Loxahatchee NWR, Merit NWR, Cedar Key NWR, Wakulla State Park, and St. Marks NWR, paddling on the rivers, lakes or bays. The winter dry season is almost mosquito-free. The sun shines daily. Florida winters are unbelievably comfortable.
The top place for Florida bird photography is Ding-Darling. Go there often, go early, and go late. A five-mile long auto road winds through the refuge, with lagoons on both sides. Feeding frenzies – a Ding-Darling trademark – erupt frequently. The frenzies can involve a dozen species, and hundreds of birds: egrets and herons, wood storks, spoonbills, white pelicans, white ibis, and cormorants. A couple of mornings the Spoonbills, cotton-candy pink under the bluest of skies, were close in and easy to photograph. Brown Pelicans sometimes plunge-dive right next to the shore. You can launch non-motorized boats north of the road. I launched my kayak, and got close views of Reddish Egrets and daytime-shy night herons. If you want to study feeding behaviors, or capture wading birds in flight, you won't find a better, more accessible place than Ding-Darling.
That said, my favorite South Florida locale was Myakka River State Park. I loved Myakka for the opportunity to feel I was a part of nature, to be immersed in it. To paddle a river full of alligators, to listen to the bleat of the Sandhill Crane, to search for my first Limpkin. I identified 52 different birds here, 51 of them from my kayak. At Myakka, I was away from the beach crowds, the boardwalk trails, the line-up of photographers at hot-spots like Ding. Paddling the Myakka River and the lakes, I found solitude.
Click the thumbnails above for a glimpse, as they say, of the real Florida.