Wildflowers and mirror ponds at Indian Henry's Hunting Ground.
We cannot display this gallery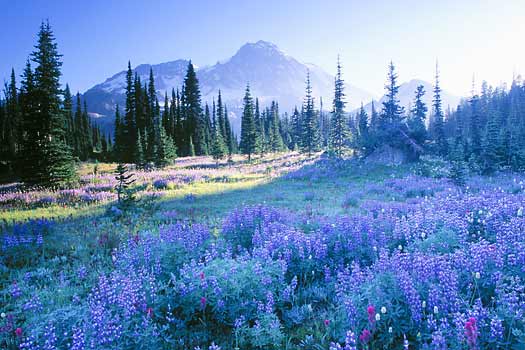 Indian Henry's Hunting Ground is a huge bench with mirror ponds and an expansive sub-alpine meadow. Several ponds reflect the Mountain, including the pond made famous by the Ashel Curtis photograph. Find carpets of avalanche lily in July; densely-packed lupine in August. Most of the pictures here are from August 8-10, 2001 – prime time.
For photographers, Indian Henry's is best done as a backpack. The shortest way in is up the un-maintained Tahoma Creek trail, which joins the Wonderland Trail near the suspension bridge that crosses Tahoma Creek. It's about six miles in, 2,100 ft elevation gain. The section of the trail washed out in 1990 is passable (check in at the Longmire Ranger Station). Camping in backcountry toward Pyramid Peak is best for those who want to photograph early and late. Devil's Dream camp, a possible but less practical alternate, is about two miles away from the Mirror Lakes.
Oh, yeah, mosquitoes love this place.
Click on the thumbnails above for an Indian Henry's sampler.
Resources:
Sunrise to Paradise, Ruth Kirk, University of Washington Press, 1999.
Hiking Mt. Rainier National Park, Heidi Schneider and Mary Skjelset, Falcon Publishing, 1999. The Trail Finder table cuts to the chase: Easy, moderate or strenous hikes to wildflowers.
Flora of Mt. Rainier National Park, David Biek,Oregon State University Press, 2000. All the Rainier plants in a comprehensive key.