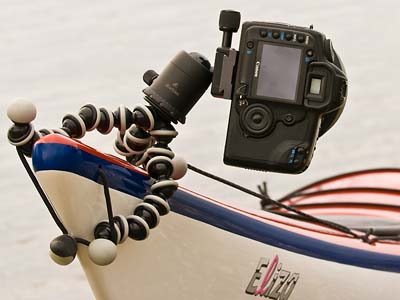 Edited 03/15/2013. I often carry a Bogen Super Clamp or a tabletop tripod on kayak trips. The Clamp attaches to kayak U-bolts, rudders, or in camp from tree branches; the tabletop tucks under deck bungie for an action shot or gets the low-angle perspective while ashore. The Clamp weighs a full pound, so I never take it backpacking. The tabletop weighs 6 oz. including its own little ball head. It's mostly inadequate for an SLR. Always looking for alternatives, a few months ago I added a new tool to the arsenal, a Joby Gorillapod SLR-Zoom. It weighs in at 8.5 oz.—suitable for a full-sized SLR like my Canon 5D and capable of holding 6.6 lbs (Joby has an even bigger Gorillapod, the Focus, capable of holding 11 lbs and weighting 1.1lb). The legs for all models consist of multiple plastic ball-and-socket joints, bendable enough to hook around tree branches or slip under deck lines or contort around bike handlebars, yet stiff enough to support an SLR. The SLR-Zoom has a flat surface with a ¼" mounting thread (or use a supplied 3/8" adapter) to mount a camera—or to mount an intervening ball head as the situation warrants. The leg sockets have rubber rings around them to prevent slippage on slick surfaces. They're not suction cups, though, and they slipped on the slick gelcoat of my kayak when I tried to get them wrapped around the bow as a first test in my garage. Still, this wasn't a problem. I hooked two of the legs inside the bow grab loop and secured the third leg under the deck line (see image, top left), added a ball head and bent the kit over the side. Then I mounted my 5D, carefully tightened all the knobs, put padding under the camera on the garage floor and shook the heck out of the kayak to see if the rig would slip. It didn't.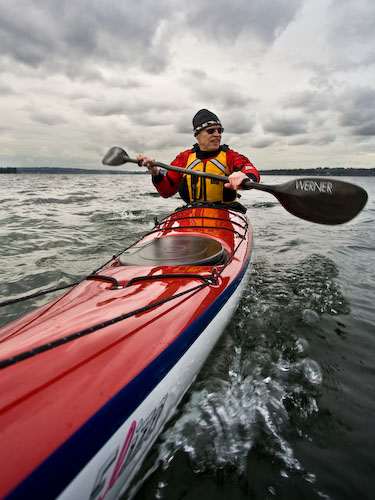 My garage test success was followed with a live demo, when I paddled out from the local beach onto Lake Washington and used a remote control to quickly get a bunch of photos even as waves from a 10-knot breeze splashed up from under the bow. It's likely the Bogen clamp and the tabletop are history. Some creative thinking will have the Joby cover that terrain, and push into new ones as well.
One caution. I was tempted to title this the "Don't blame me" or "Don't try this at home" tip. Of course, there's lots of safe uses for the Gorillapod. For me, I'm pretty sure this "for example" is worth the risk of trashing or losing a few grand in camera gear. I can recommend the Gorillapod. How you use it is up to you.
Addendum: Photographer Bob Johnson has a more thorough review of the Joby Gorillapods. Check it out. If you haven't been to his website, www.earthboundlight.com, it's a personal favorite. Bob's PhotoTips are the best — well-researched, relevant and thoughtful. He does his homework so you don't have to.
Gary