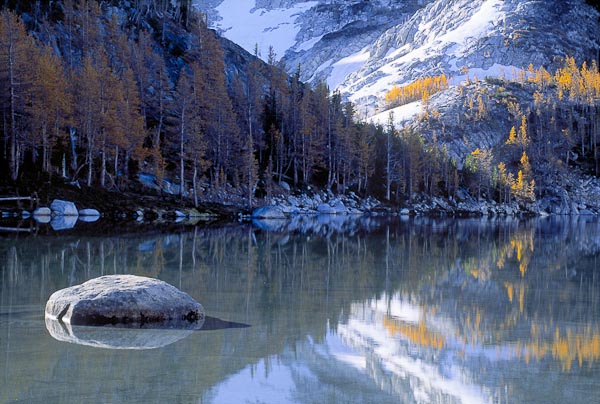 I was tempted to call this tip "Small is Beautiful".I started pruning backpacking poundage after a 1995 trip to Washington State's Enchantments, when my pack for five days in mid-September tallied 55 lbs. There's no reason to re-hash the old gear, but the same trip today would weigh in at about 35 lbs, with better comfort and safety.  As photographers we often lug ten or more pounds of camera gear, plus our camping gear, up muddy trails to mountain vistas. We hope we have energy left for the shoot. So let's have a look at cutting the weight on our backs—and reach for those wilderness dreams.
I'm making the assumption that, like me, you'll carry a dSLR and a tripod. Image quality is not something we compromise.  And although it's safer to go in with a group, I'm assuming you'll go solo. Finding regular companions to match our dawn patrol proclivities isn't a given.
Figuring out a light-weight system is backpacking by iteration—it's step-by-step.  For starters, tackle the big-volume, heavy-weight shelter and sleeping system, and decide how you'll carry the camera. Next look at volume- or weight-reductions for stove and clothing. At that point you'll have a good idea of the cubic inches you'll tote and you can choose a suitable backpack. For more savings, look for ways to make gear do double-duty. Get creative. Use free stuff like re-usable plastic cups, bowls, spoons and bags; rubber bands instead of stuff sacs; tiny vials for pills, sunscreen and bug dope. Sweating the little stuff adds up. For safety, the most important tool is using your noggin; test your gear in the backyard or on safe travel routes so you don't end up in a crisis.
The Big Stuff
Shelter: I like tents, but a single-person or small two-person, three-season tent is a lot of bulk and three to five pounds. A bivy bag alternative saves volume and weight. A bivy gives you a more exposed feeling, a perceived vulnerability that you may or may not like. For solo trips, I usually take a tent, but my fast and light choice is the Outdoor Research (OR) Aurora Bivy: 3-layer Gore-tex, no hoop, 25 oz. It packs small.
Sleeping system: Nothing beats high-loft down for low-weight warmth. I like my Phantom 32, 22 oz, 800-fill—Mountain Hardwear's most popular down bag. I've found it bit too cold for frosty mornings combined with a ¾-length, 1″-thick Thermorest pad, 12 oz. Everyone, of course, sleeps differently, so error on the safe side. My solution below about 28F is a three pound down bag and a full-length pad. For summer, the Thermorest ProLite  shorty, 8 oz, is a minimalist choice. It works for me, and then I use the Phantom unzipped like a quilt.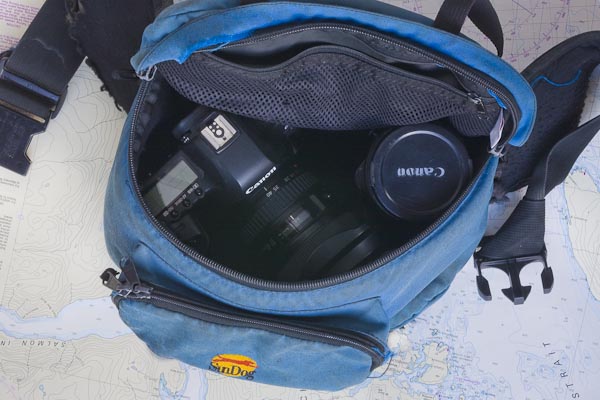 Carrying the camera: For toting the camera, I like a small belt pack (fanny pack). Especially if you operate from a base camp, the belt pack frees your hands to work the camera. My old Sun Dog is padded and roomy enough for an extra lens and all the filters, flash cards and batteries I carry. At 14 oz, it's smaller and lighter than most dedicated photographer belt packs, almost all of which are simply too big, designed for a hike from the car, not for lugging 4,000 vertical feet up a trail along with 20 pounds of camping gear. I stow the Sun Dog at the top of the backpack, but for shots along the trail I buckle it up faced-forward so I can un-zip and shoot.
Sun Dog is out of business, but a belt pack that makes the same sort of sense is the Lowepro Off Trail 1, 18 oz, lighter if you take off one or more of the attached lens cases; or the Lowepro Photo Runner, 20 oz. Other options for just-one-lens-shooting-in-route are the Digital Holster 10, 12oz; the Lowepro Cirrus TLZ 15, which fits a Canon 40D with small lens attached, .49 lb; or the Lowepro Topload Zoom 1, .44 lb. Check the size before purchase with any of these to be sure your camera/lens combination fits.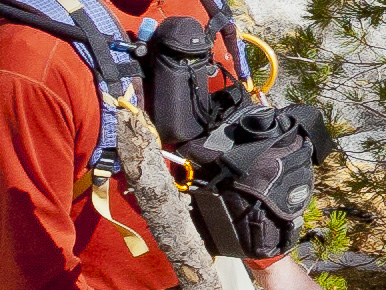 My friend Rich Byrne has come up with a simple, one-lens system that allows him to shoot on the trail or while skiing. His old top-load Tamrac (replace by the Tamrac Aero 3330, $25) will fit a Canon 50D w/17-40L lens (4" lens length). Bag weight is 7 oz (.44 lb). Rich has cleverly attached carabineers to the D-rings on each side, which then attach to the backpack shoulder straps. He can quickly pull the camera out of the protective case and shoot while underway, and states that the weight transfers from shoulder strap to hips (where it belongs) with a properly-fitted pack.
Most of the time backpacking I skip the grab shots, hike to a base camp, and wait to shoot unencumbered in the sweet light of dusk and dawn. For a super-light, one-lens trip, here's a way to shed a pound: Make your fleece hat do double-duty and wrap it around the camera/lens, then put that in a silnylon (Outdoor Research) ditty bag, .8 oz. On cold nights you may wear the fleece hat while sleeping. Leave the camera on the tripod outside, with the waterproof ditty bag cinched over it like a rain hat. Keep the battery in your pocket so it will be ready for the morning shoot.
Tripod: I like the three-section, not four-section, tripods, in carbon fiber. My Feisol 3301 tripod, 42 oz, is in its 5th year, with no problems, except the threads on the aluminum two-piece center-column fused together (Feisol seems to have eliminated this in later models). I rarely used the center-column anyway, and I sawed it off since it interfered with getting low. For backpacking I use a Markins Q3 ball head, 13 oz. Together their maximum height is 52", for me about chest level. If I was looking for a tripod, I'd take a serious look at Slik, and also at the Feisol Tournament Class CT-3342, which is a bit taller and lighter than the 3301.
Lenses: Think hard about the lenses you'll need. A wide-angle zoom will get you 80% of what you want—and may be all you need for scenics. Why lug a macro lens for close-ups of flowers or lichen that you can easily get on a car-camp trip? Likewise with a telephoto—unless you're going for a particular animal in a particular setting.  By simplifying your kit to one lens, your camera bag shrinks. You only cart one polarizing filter and maybe an ND filter. Add an extra battery, flash cards, cleaning cloth and tripod. Total weight including tripod can be less than seven pounds.
Stove: My 3.2 oz, MSR Pocket Rocket is simple and dependable, and it and a 4 oz fuel canister (7 oz full) nest nicely in a 6 oz titanium pot. For easy trips (or kayaking), I pack an MSR Dragonfly, 19 oz and the ultimate gourmet simmer stove, plus a 11 oz fuel bottle (14.7 oz full). White gas is cheap, and I get concerned about tipping over the pot using the tiny Pocket Rocket.
Clothing: For trail pants, I love my Kokatat boater pants, 12 oz. You can find lighter pants, but these last forever and the tight knit repels mosquitoes. If you can find the Little Hotties thermal bottoms ($20 last year at Costco), my 6 oz pair seems superior to mid-weight Patagonia capilene, and an ounce lighter. I got a big weight and bulk savings by replacing my 17 oz fleece jacket with a 5.7 oz Montbell  Ex Light Down Jacket. The Ex Light has no pockets, no frills, and it packs to a size hardly bigger than a softball. For extra clothing, I pack socks, briefs, and a mid-weight, long-sleeve, wool or capilene top.
Rain Gear:   I love my OR Fanatic Jacket, 9oz. It packs small into its own pocket. It could be a couple inches longer, but then (sigh) it would be heavier. I like Paclite for rain-pants, and often put them on for dewy mornings. A lighter-weight raingear solution is a poncho, or poncho and chaps, so simple and cheap that retailers steer away from them.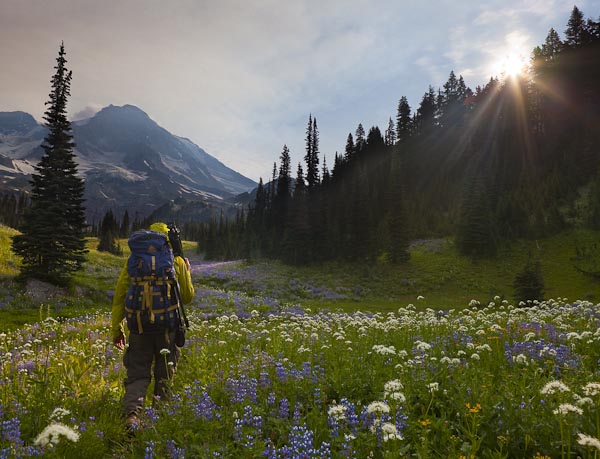 Backpack: A top need is a way to easily strap on a tripod, and to have enough volume to fit the camera kit inside. I like a mesh side pocket to hold a water bottle, and a top compartment for snacks and incidentals. I don't use a hydration pocket. My current backpack is the Jansport Bivouac 49, 43 oz, 3000 in3.  It's a good volume at reasonable weight. I store a photo fanny pack on top of other gear in the main compartment. I looked at the super-light GoLite Jam2, 26 oz, 3000 in3,  and could probably learn to like the reduced feature set. The Osprey Exos 46 looks interesting, about the right size, 2,800 in3 and 41 oz. I'm sticking with the Jansport for now, in its third season.
Footware: I wear a boot, not a shoe. I worry about turning an ankle, and therefore look for ankle support. In summer, a pair of flip-flops or Crocs are light and give the feet a breather while in camp.
Food: My rule-of-thumb for food is two pounds a day. I take a lot of nuts and dried fruit. Pasta is hard to beat for a satisfying meal, and angel hair pasta or couscous are quick to cook and high calorie. Minute rice with (dehydrated) beans are a good choice as well and a complete protein. Add garlic or other spice, a bit of olive oil, raisons, maybe some (dehydrated) carrots, and dig in. Occasionally I'll eat cold dinners on overnights because I want to photograph, not cook, in the sweet evening light.   Dehydrating your own vegetables can be worthwhile. Carrots, for example, shrink hugely in size and dehydrate to 1/6th their weight. I've dehydrated plums and apples from our backyard fruit trees, but dried fruits from the grocers are readily available. I get dried fruit, pasta and breads like pita at Trader Joe's, the best one-stop food shop for backpacking.
Water Management: For backpacking in the Northwest, water sources are generally frequent on the trail. I often start the day with just a half-full water bottle (maybe 10 or 12 ounces), and do a rest stop at a water source on the way in to both hydrate heavily and re-fill lightly. My Katadyn Hiker, 13 oz (claimed 11 oz), filters water fast, so it's hardly a bother. I prefer this strategy to carrying more water, or using chlorine or iodine tablets: you have to wait for chlorine, iodine tastes bad, and neither one seems like a good idea to me.
The Little Stuff
Coffee: My day begins with coffee. I like a strong, aromatic morning injection, but then that's it for the day. For backcountry, do what the Turks do: a tablespoon of dark-roast Arabica bean, with a Turkish-grind—best ground with the plates so close together they're screamin'.  Drop the coffee straight into the cup, add boiling water, stir, and let sit for two minutes. The dregs settle on the bottom—like French press coffee without the press—and no messing with a Melitta filter, filter holder, or coffee bags.
Cup: The other day I was staring at an empty Styrofoam cup after drinking the coffee at (gulp) McDonald's. The Styrofoam felt firm—and light. It weighed in at .4 oz, a full 2.1 oz lighter than my 2.5 oz Lexan cup. Cups I never carry anymore include a 7.2 oz, stainless "Sierra" cup, and a 2 oz titanium single-wall that burns the lips. The Styrofoam isn't durable, but replacement is cheap.
Bowl: Recycled margarine bowl w/lid, 1.2 oz; Tupperware, 2.4 oz; or take a look at an Orikaso Fold-Flat Bowl, 1.2 oz, $3.
Utensils:   A spork, which combine spoon, fork and sometimes knife, is double-duty by design. I use the Swedish Lexan spork, the .3 oz Light My Fire.  I have to say, though, it doesn't function as well as a dedicated spoon or fork, and it breaks fairly easily (in the middle).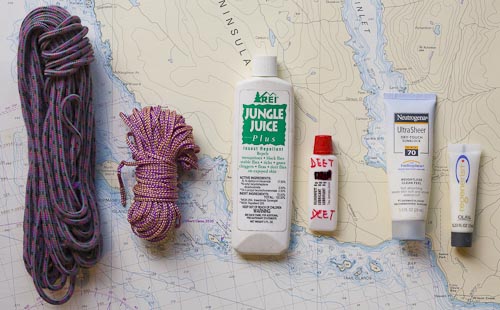 Food bag and line: I like the roll-top closure of a small OR Helium bag, 1.8 oz. The tight closure reduces food odor. I also use a home-made roll closure, 3 oz, made with a tougher Seattle Fabrics coated pack cloth. Either one holds six pounds (three days) or more of food.  Hang the food with Kelty Triptease Guyline, 50 ft, 1 oz, $15. Or, get a 50 ft length of PMI 2mm utility cord at REI, $.15/ft, also 1 oz, $7.50.
Water bottle: A 32 oz-capacity Nalgene bottle weights 6 oz! Recycle a soda bottle, 1.3 oz, instead. I also stow a 2.4 liter, collapsible, Platypus bottle, 1.5 oz, in my Katadyn filter bag, and pump it full when I arrive at camp.
Gloves: OR PL Base Gloves fleece, 1.3 oz. Photographers need gloves to avoid cold hands in the shoulder seasons. A simple liner glove works pretty well.
Headlamp: The small LED models are light and efficient. Mine is a Petzl Tikka, 2.7 oz.
Organizer: OR zip sack 1.4 oz, size medium—for first aid, credit card, driver's license, personal stuff, money. Find sample size, not travel size, containers for liquids. Sawing off a tooth brush doesn't save much, though you could get a two-piece model at REI that halves the length. For tooth paste, use an almost empty travel tube. I recycled a tiny tube for DEET, instead of the big 2 oz store-bought size. For pills like Ibuprofen, REI sells a ¼ oz container that serves pretty well. For suntan lotion I use a re-filled Olay sample tube, .2 oz. It lasts for weeks in the Northwest!
Map: Use a scissors to cut maps (or map copies) down to the area you'll hike (or could get lost) in. Be sure to include surrounding landmarks.
Watch/Compass: For years I've used the Casio Pathfinder Fishing watch, which has the moon phases and sunrise/sunset times, useful for photographers. Of course, these things can be determined before the trip. A watch with a compass and altimeter makes sense, and—though the compass may be redundant—adds safety while backpacking.
Car key: Leave it behind in a Hide-A-Key; saves up to an ounce.
A year from now, I'm sure I'll be packing new options, and discard some of these. Perhaps you've got other, better, light-weight, low-cost solutions that work.  Let me know. I'll post them here as an addendum.
Gary