"The Enchanted Circle" 
 A week in early May sea kayaking and wildlife watching, traversing Prince William Sound aboard the charter yacht Faithfully.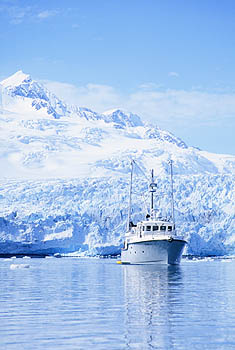 Sea Otters. They porpoise, they dive, they crawl up on a nearby iceberg and slide back in. They frolic in an intertidal lagoon full of bergie bits from a nearby glacier. Sapphire-blue ice surges back and forth with every ebb and flood of the tide.
I'm sitting in a sea kayak. The morning sun pours over my shoulder as I watch a pair of juvenile sea otters. They're part of a larger group in the lagoon that has, evidently, little reason to keep their guard up. I snap a few images, then pick up my paddle and slowly reverse stroke to back off. The juvies never sense that I'm there.
In a week in Prince William Sound, we travel from Whittier aboard the charter boat Faithfully, with one double and two single kayaks aboard. We visit the glaciers of Harriman Fjord, motor a northerly route of the Sound to the Columbia Glacier and Valdez, and then return by way of Naked, Eleanor and Perry Islands, Port Nellie Juan and Colross Passage.
The sea and shore birds are in migration. In the sea otter lagoon I find Long-tailed Duck, Surf Scoter, Black Scoter, Red-throated Loon and Barrow's Goldeneye. Pintail, Green-wing Teal and Harlequin Duck linger at the edges. I hear the haunting wail of Common Loon. On the moraine's stony shore Black Oystercatchers battle for territory and Semi-palmated Plover scurry about. I see Mew and Glaucous-winged Gull, Black-legged Kittewake, and a pair of Wimbrel in flight. As I paddle along, a Parasitic Jaeger arcs in and settles on a rock.
Click on the thumbnails above for a charter boat and kayak view of what Harriman expedition historian John Burroughs called "The Enchanted Circle".