One weekend a year, the board surfers yield famed Steamer Lane to kayak surfers.
We cannot display this gallery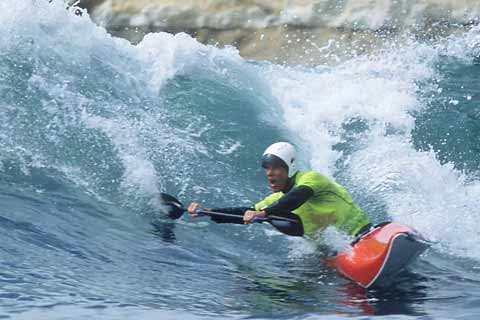 Santa Cruz, CA. The March 19-21, 2004 Santa Cruz Kayak Surf Festival featured waves so small they were drowned out by the bark of sea lions and the squeal of offshore sea otter pups.
A high mid-day tide forced kayakers in toward the cliffs to catch waves. No one swam this year in the advanced categories, but surfers hung up on the rocks trying to extend their rides. Dennis Judson summed it up, "Last year it was 20-30 ft waves, this year it was rock bashing". Spectators got in-close action – like Fletcher Burton standing up on his waveski and John Grossman performing the "helix" – just seconds before their waves crashed on the rocks.
Jim Grossman was a big winner, with 1st's in both Men's High Performance and International Classic. Gina Troiani won in Women's International, and Rhiannon Woodman of England won the Women's HP. Scott Halley won in Production Plastic, and Roger Adams won a $500 take-all purse from Island Waveski in Wave-ski.
Click on the thumbnails above for images of kayak surfing at the festival. Check the Adventure Sports Unlimited website for the complete 2004 competition results.