Aboard the Home Shore, routes from Sitka to West Chichagof and Lituya Bay, and then to Tracy Arm and Icy Strait. A sea kayaking cherry-pick.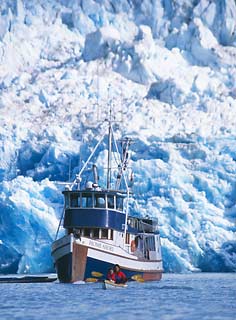 May, 2003.
"I wouldn't want to take a boat through here", I said, looking up from the chart to the rock-strewn entrance to Piehle Pass. "That's just why I wanted to", replied Jim Kyle, owner and captian of the sea kayak mothership Home Shore.
Kyle, 58, with 40+ years fishing in Southeast Alaska, fitted his seiner during the winter with two staterooms – converting it to a full-time kayak mothership. I'm on board to photograph, and my wife Kate and I are lucky enough to stay in a stateroom. We're thrilled. The first day out of Sitka we motor to a dream destination – the outside of Chichagof – and inside the protection of barrier islands. It's a kayaker's paradise.
In ensuing days we paddle Chicagof and Yakobi, the head of Lisianski Inlet, and then cruise up the Gulf of Alaska to Lituya Bay. Kyle proves an uncanny navitator, playing the weather and designing the days so we always paddle (or fish or hike).
The kayaks and gear are supplied by the Home Shore. She takes just six guests, with a crew of three (Captain Jim, kayak guide/first mate Ben Kyle, and chef Tara). Most tours start in Sitka.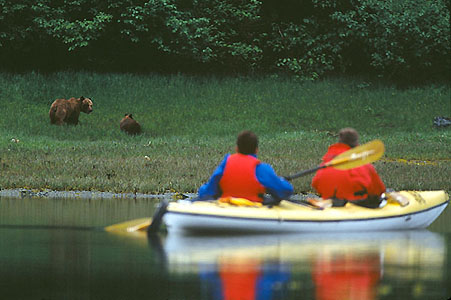 I stay on for a second tour – and a different route. The first evening we're soaking in a thermal pool at Baranof Hot Springs, after paddling a waterfall coast at Kasnyku Bay. Next stop is Tracy Arm, where we kayak as close as we dare toward calving tidewater glaciers (not as close as it looks). In Icy Strait, we kayak amid humpback whales as they devour schooling herring. Then we head outside, and paddle what Kyle calls an "inner sanctum" on Yakobi. On Chichagof, we hike to White Sulfur Hot Springs for another soak.
All the while, sourdough pancakes or shrimp stir-fry or halibut crepes keep rolling out of the galley. There's cold microbrews in the frige, books on the shelf, and conversation in the wheelhouse. Need private time? – we sit at the stateroom window to read or watch the shore slide on by.
Click the thumbnails above for images from this wild capes adventure cruise.