Sun River and Bend, Oregon, Mountain Lakes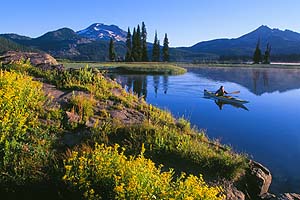 August, 2002 (and 2003, 2004, 2005). The volcanic spires near Sun River (just south of Bend), Oregon, provide a magnificent setting for quiet water canoeing and kayaking. We paddled Sparks and Hosmer lakes, Crane Prairie Reservior, plus a class 1 river trip down the Deschutes. We scouted, but didn't paddle, Big Lake, with it's famed Mt. Washington backdrop, and Scott Lake, with a fine view of the Sisters.
We didn't research the trip. Instead, we used a stand-by strategy: stop at the Sun River library, where we thumbed through Ray Atkeson pictorals and work by Steve Terrill. On the water, kayakers and canoeist told us a few of their favorite local paddles.
In a week, we couldn't do them all. We missed the lakes of the Newberry Crater, and Waldo – a lake with water so clear you can drop a Secchi disk a hundred feet and still see its black-and-white pattern.
On the return trips in 2003, 2004 and 2005, we added Davis and Waldo Lakes to the area's blissful paddling.
Click on the thumbnails above for images of Hosmer, Sparks, Waldo and Davis Lakes.