No kayak trips, a couple of backpack overnights, bird photography in May and June and bird photography by kayak in the Fall. A thin year, but one that yielded keepers none-the-less. Oh, and every image here was shot with the tiny Sony a6300, using Canon, Sony or Rokinon lenses.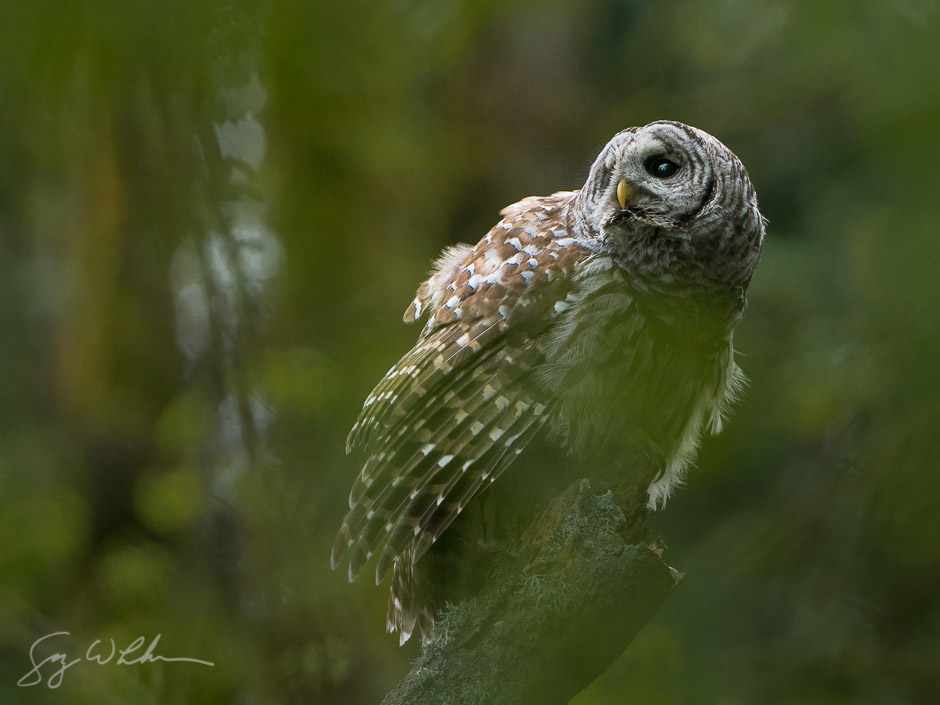 Light in the Forest. I called in a Barred Owl after observing their nearby nest was empty. Both adults flew in, and this one posed briefly on a nice perch. I was forced to shoot through foliage, but that added mystery and emphasized a nice directional light on the bird.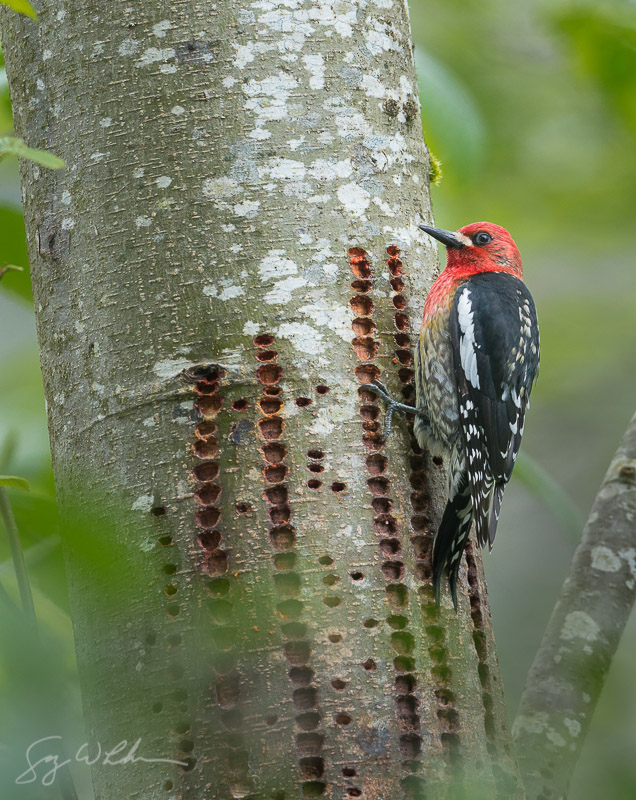 Sapsucker Wells. Near the Juanita Park firehouse in Kirkland, these Red-breasted Sapsucker wells were the best I've seen, drilled in Red Alder. An adult pair had a nest nearby, making the shot a short wait as they frequented the wells.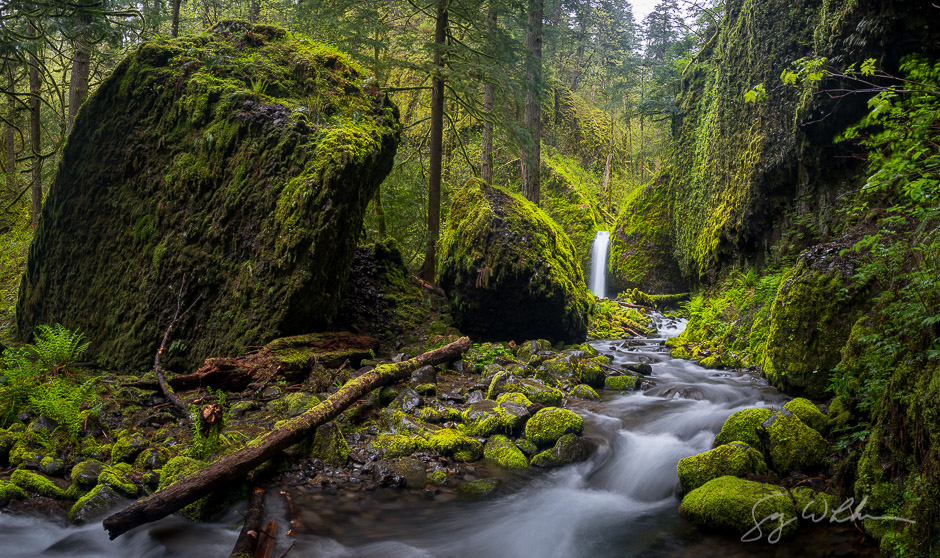 Mossy Grotto. At the Columbia Gorge, I did my first spring visit to the "Mossy Grotto", a rather difficult location to find without a guide. Spring at this site shows much, much better than Autumn.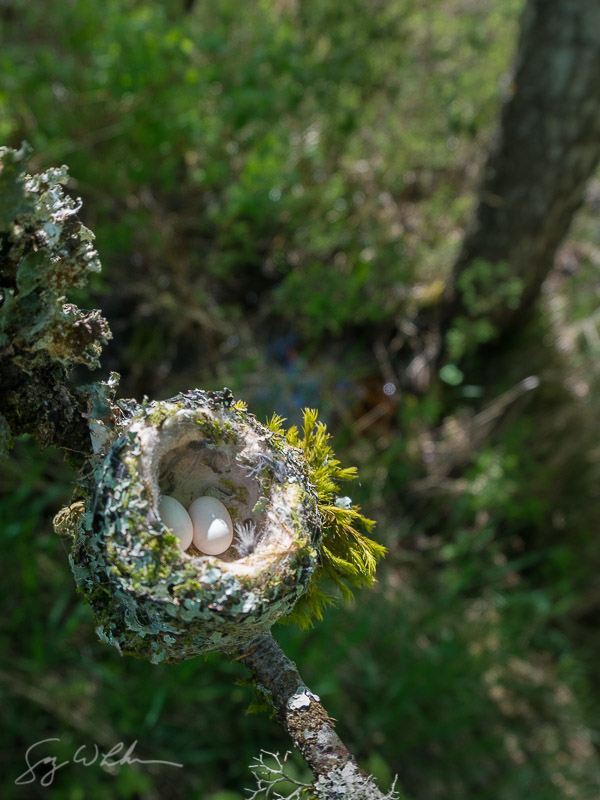 Tiny Home. I discovered this Anna's Hummingbird nest, about seven feet off the ground, not long after the coffee-bean-sized eggs were laid. On my second day of observation, when mom left briefly to feed, I walked over and lifted my Sony a6300 overhead for a quick hand-held shot.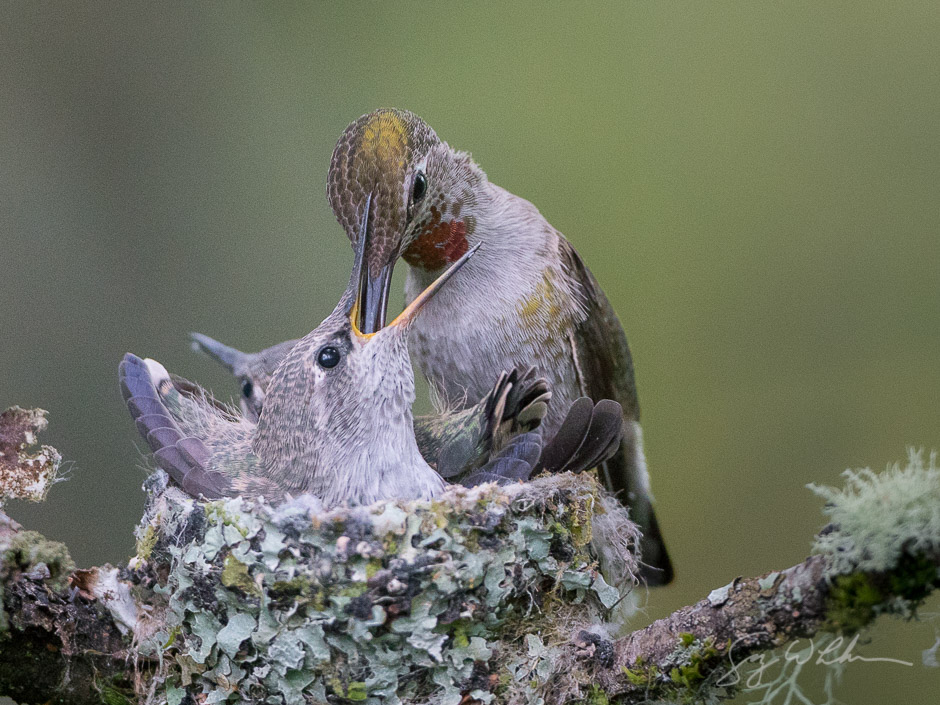 Humdinger. Same nest 25 days later, mom feeds the fat chicks. They fledged two days later.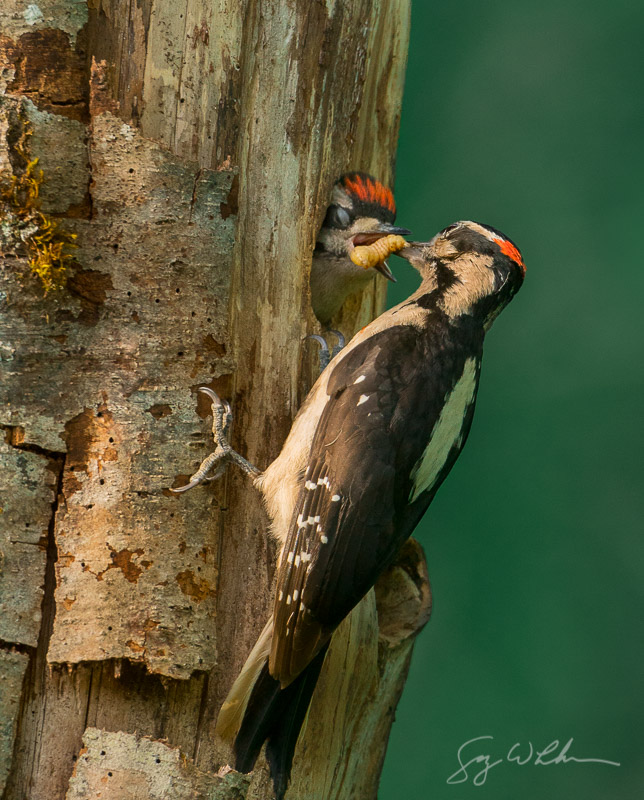 First Light. Early morning sun fleetingly lights a Hairy Woodpecker male feeding a grub to a chick at Stillwater.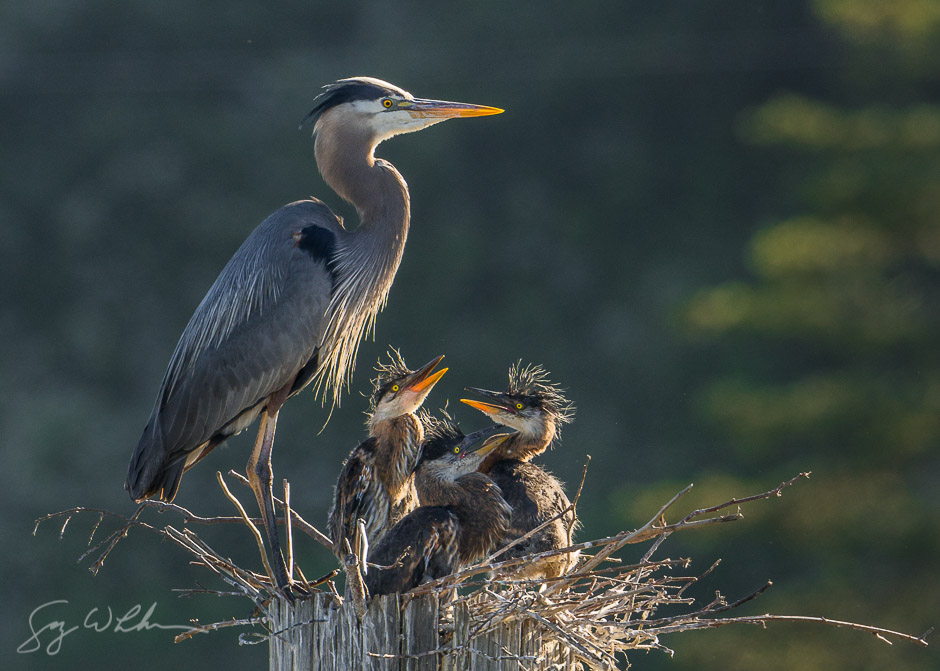 Hair Wired. When I heard April 1st on Tweeters that Great Blue Herons were nesting at the Everett Marina, I thought it was a joke. Not so. About 20 nests provided excelent photo ops of adults feeding goony nestlings in May and June.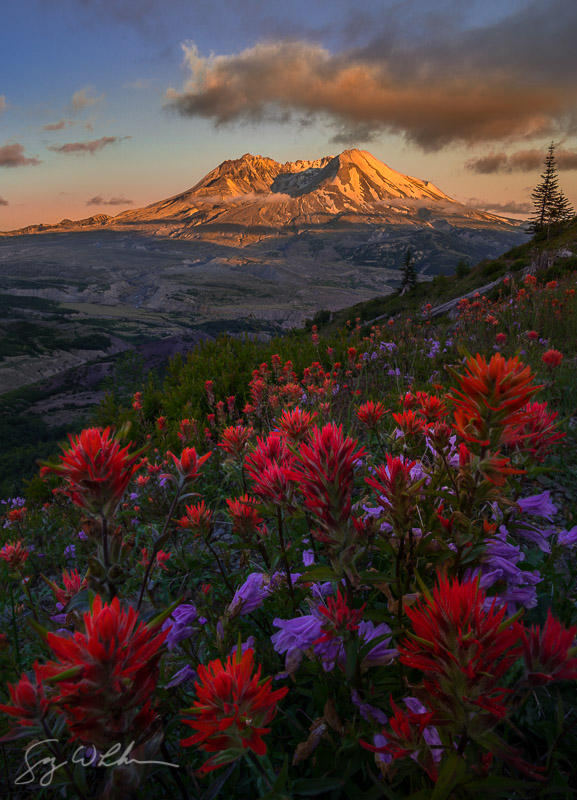 Resurrection. My first visit to Mt. Saint Helens for landscapes yielded this trailside image, blended from a focus stack of five, plus a darker exposure for the mountain itself. It was a fortunate shot, as fog quickly blanketed the mountain, and I headed for home.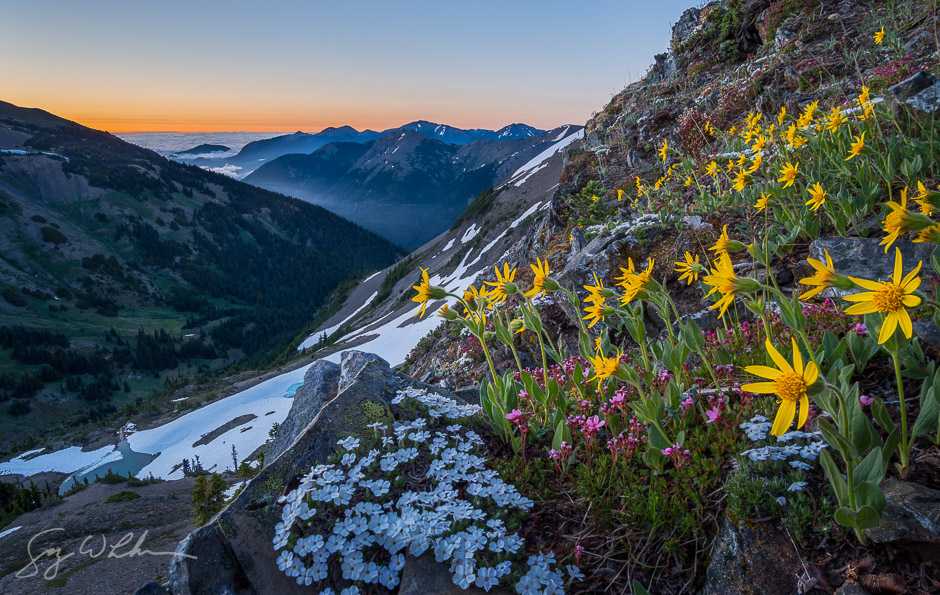 Alpine Delights. On Lillian Ridge overlooking Badger Valley in Olympic NP, I love this mix of alpine flowers: spreading phlox, hairy arnica, smooth douglasia, in pre-dawn light.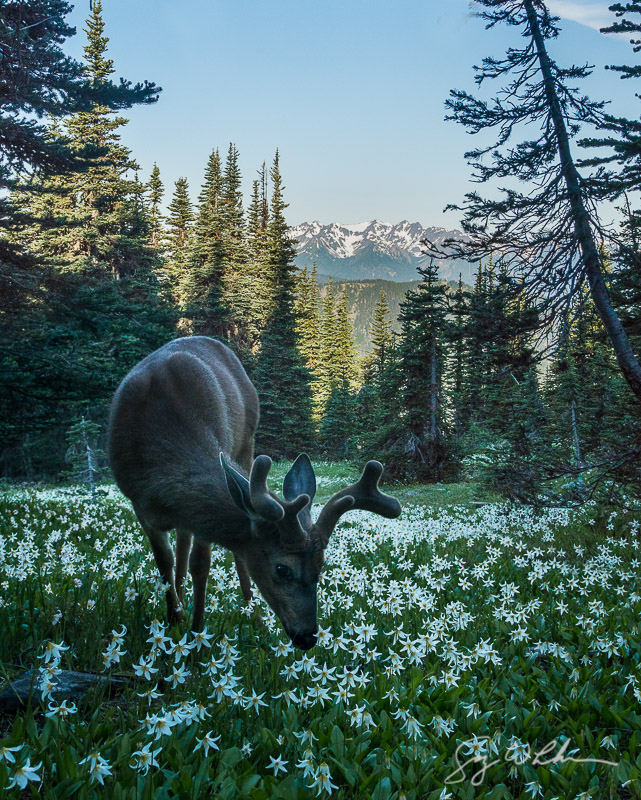 Sustenance. Same morning in Olympic NP, I followed this blacktail buck into the woods and set up where I hoped he would wander. So nice to have such tame deer in this Park.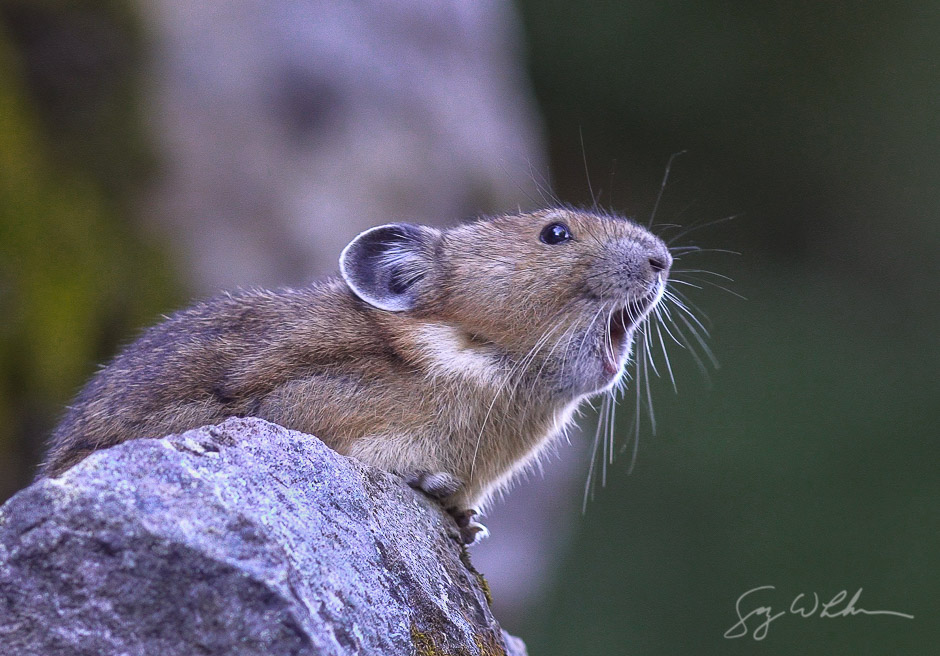 The Call. I started a Pika project that will eventually turn into a video. The plan was thwarted by early Fall snow, but not before I got good if incomplete footage at Mowich Lake, Mt. Rainier NP. This image is a screen capture from 4K video. It's harder to get Pika calling with a still. You have to be ever alert and quick, and shooting at 6 or 10 frames a sec with stills is less likely to hit the peak action compared to 30 f/s video. With 8K video in the pipeline, video encroachment on still shooter turf is inevitable.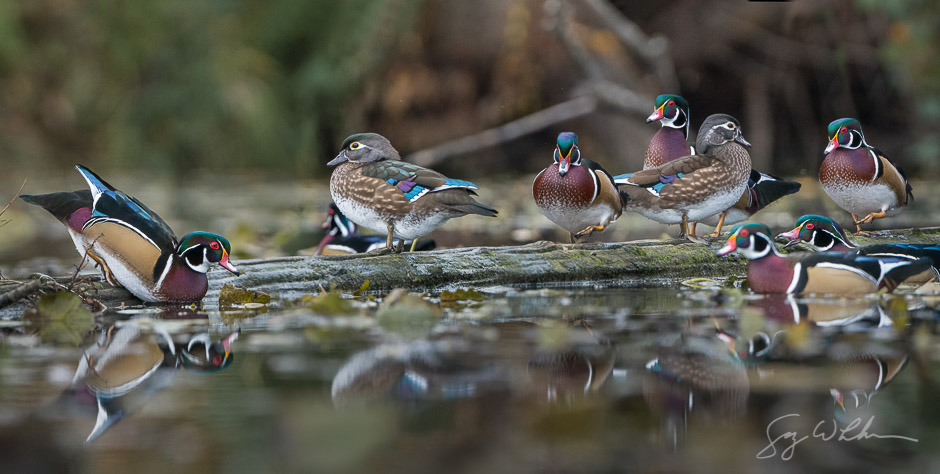 The Gathering. Shot from a kayak in Union Bay on Lake Washington, I was too close to get it all in with one shot, so I panned left to pick up the male Wood Duck entering the water. In Photoshop, I composited this from four images, choosing best head positions to strengthen the composition.
Happy Shooting in 2018!
Gary