Light-weight your three-season backpacking gear to hike farther and higher, and capture the photographs of your dreams.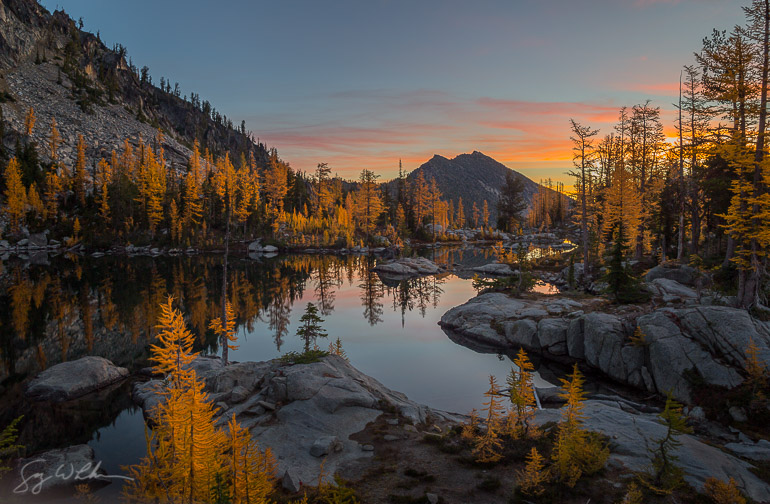 Note: this is an update of a 2016/01/29 post.
My ultalight Odyssey took root in a 1995 backpack to the Washington State Enchantments. On day one, we slogged over Aasgard Pass, a 4,550 ft elevation gain. My 55-pound load included 10 lbs. of camera gear, with a few oddities: a 1 lb. stainless-steel pot; a 2 lb. Arca-Swiss ball head. The pack alone weighed six pounds. I could never manage that load today, but thankfully—with careful gear choices—I don't have to. My pack weight including food and camera gear for a 5-day solo trip is under 24 lbs. now, with better safety and comfort than before. And instead of six rolls of Velvia, I get upwards of 2,000 premium digital stills, plus video, from a crop-frame mirrorless camera with image quality superior in most ways to my Canon 5D III. Woo-hoo!
Below is a conversation on light-weighting backpack gear, with photography the goal. The weight savings come both from gear choices, and, with experience, leaving some stuff at home. The volume reduction means the gear fits into more of a summit pack or daypack. To get there, pay attention to everything—not just the pack, shelter and sleeping bag. Clothing, cook set, food and a dozen or so small essentials get the scalpel as well.
A favorite book on this subject is "Ultralight Backpackin' Tips" by Mike Clelland. The book is packed with ideas, and each tip is accompanied by a cartoon reminiscent of "Keep on Truckin'" Robert Crumb. I credit Clelland for much of the following. For an on-line source, including camera gear if you don't want to carry a dSLR, re-fill you coffee mug and peruse Adventure Alan.
For light-weighting camera gear, not backpacking gear, see my 2016/01 photo tip.
Create a Spreadsheet
To get your backpack weight under control quickly, use an electronic spreadsheet (I use Excel). Create categories such as pack, shelter, sleeping system, kitchen, consumables, clothes packed, clothes worn, small stuff and camera gear. List all conceivable items. Weigh gear on an accurate scale (Weight Watchers is good), and sum by category. Don't guess the weight of anything. A spreadsheet shows where the weight is—and where to look for savings without missing anything. As you buy, barter or make light-weight items, add a row for each in the appropriate category, and then zero the old stuff. See Clelland for a model spreadsheet. After looking at his table, I scrapped my old spreadsheet and started over.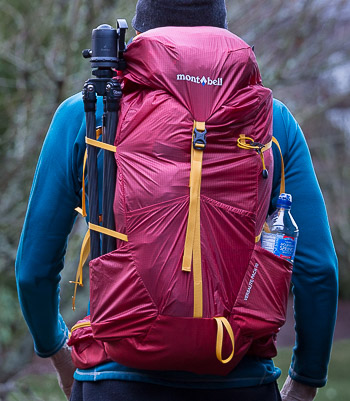 Pack
Before choosing a backpack, photographers need to determine stowage volume by light-weighting essentials like shelter, sleeping system and clothing. A photographer must also consider how the pack will carry a tripod, extra lenses and camera, but the pack should be otherwise minimalist. Because conventional backpacks have (too) many features, tough (heavy) materials and a design for heavy loads, look to summit packs or daypacks for inspiration. They're small and light, with fewer frills, though most are too small volume. Avoid as well the pro photographer backpacks, with their many, padded compartments. These are heavy monstrosities suited for day hikes near trailheads, and have little room for camping gear.
I think what's appropriate for a light-minded, backpacking photographer is a single-compartment, top-load pack, one with side pockets and compression straps that can hold a tripod. For load balance, it's better to have the tripod strapped on the side then lashed to the back. Once you light-weight your gear, the pack itself can weigh less than 2-1/2 lbs., achieved with strategically-placed light materials and built to comfortably carry a 30 lb. maximum load. The GoLite Jam, Montbell Versalite 40, REI Flash 45 and REI Stoke 29 are examples. More expensive and lighter packs are available from small, specialty companies like Hyper Lite Mountaingear or ULA Equipment.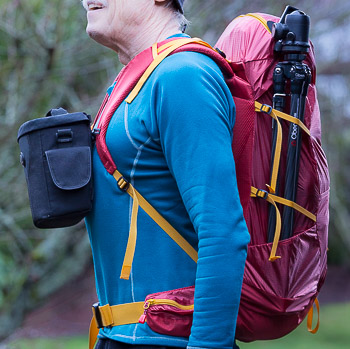 In my own case, I switched to a 3,000 in3 (50 liters) Golite Jam six years ago. It weighed 32 oz. off the shelf. I reduced its weight to 27 ounces by trimming straps, extra loops and removing padding. However, I made an error by cutting off the compression straps on one side. Trimming is vital, but be careful what you cut.
Going further, I'm now testing a smaller, lighter pack: a Montbell Versalite 30 with only 1,800 in3 (30 liters) volume. It weighs 21.8 oz. out of the box before trimming. So far, I'll just say I can use it for 2 or 3 nights out on a solo trip with tent, taking a two lens kit and tripod. With a partner, or solo with a bivy bag instead of a tent, five nights should be possible.
Shrinking gear to get into that small volume pack:
Shelter
Many ultralighters combine a tarp with an ultralight bivy. For an experienced user, tarp and bivy can work together to achieve an impressively light weight. The bivy style that works with the tarp has a breathable, water-resistant top and zipperless front. It weighs next to nothing. The other bivy style—preferable if you don't have a tarp—is beefier, with a breathable but waterproof top, mesh for mosquito protection, zipper closures and sometimes one or two short poles. This style weighs 1 to over 2 lbs., approaching the weight of a light-weight tent. Bivies by themselves make camp simple, but a photographer could get into trouble here with condensation inside, rain outside and no dry place for the camera.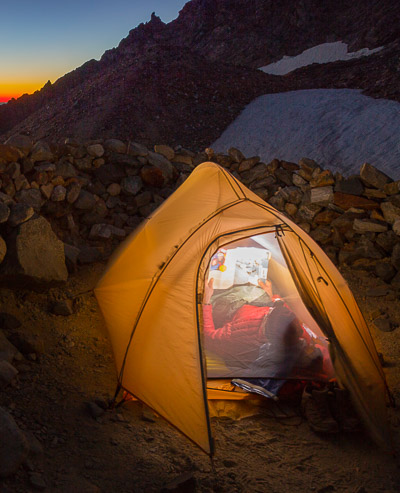 I use a tent. I have four years use now on a Big Agnes Fly Creek two-person model, made of silnylon and weighing 2.3 lb., including stuff sacks and guy lines (not stakes and ground cloth). It's quite compact as well, and versatile in that it can serviceably sleep a second person. My current ground cloth is window-shrink (polycryo) plastic, 1.4 oz. Tyvek would be more durable and puncture-proof, but heavier.
For solo outings, I do have a bivy bag, an Outdoor Research (OR) Aurora, 1.4 lb. and half the volume of a tent. If it's not too damp, it works well, but I prefer the tent unless we're desert camping.
Sleeping system
Nothing beats high-loft down for low-weight warmth. My down bag is an 800-fill, 22 oz. Phantom 32—a popular Mountain Hardwear down bag, rated at 32F and therefore good for most three-season backpacking. The 32F rating is a compromise: too warm for high summer; not quite warm enough for October in the mountain west. I also have a quilt, a 12 oz. Montbell Down Multi Blanket #5, good for above 45F and more comfortable than the sleeping bag when it's warm. Another summer quilt option is the Hummock Gear Burrow 40. When I need to replace my Mountain Hardware bag, something like the 20F-rated Hummock Gear Burrow 20, 20 oz, would be a top choice.
For sleeping pads, I love the comfort of the 12.3 oz. Thermorest NeoAir xLite, an air mattress that packs small. Since sleeping on the NeoAir, I've lost interest in other pad options, like less-comfortable, high-volume-when-packed, close-cell foam or the various self-inflating pads.
Clothing
Clothing worn: I like a long-sleeved, mid-weight, merino wool shirt. I like the sun protection of long-sleeve, and wool isn't stinky like polypro or capilene. I like long pants as well, with a tight-weave that mosquitoes can't penetrate. As the temperature drops, I layer on more clothing. I almost always wear a baseball cap, and I insert a multi-use cotton bandana beneath the cap to block the sun from neck and ears. Three-seasons, my packed clothing consists of the following:
• Down jacket. A huge weight and space saver, and warmer than fleece. My no-frills Montbell is 5.6 oz. It packs to the size of a softball.
• Long underwear. Mid-weight poly or capilene, about 6 oz.
• Rain jacket. Outdoor Research Helium II, 6.4 oz.
• Rain pants. Montbell Versalite, 3.7 oz.
• Mittens. For the weight, mittens are warmer than gloves. While photographing, though, I don't like wearing either one, unless I'm triggering the camera with a cable release. My fleece mittens weigh 1.4 oz.
• Fleece hat. Outdoor Research Windstopper with a chin strap weighs 1.7 oz. An alternate choice wool hat packs smaller than fleece, 2.1 oz. or an Outdoor Research Option Balaclava, 1.8 oz.
• Extra mid-weight shirt (spring, fall only). Capilene or equivalent. Lots of manufactures, 5 to 6 oz.
• Extra socks (two pair). Ankle socks save a bit, medium weight, a spare and a third pair for sleeping.
Cooking system
For a solo trip, I favor using a small pot, 650 or 700 ml., that doubles as a mug, in conjunction with a home-made alcohol stove. Pick a wide-diameter pot, at least 3-3/4" dia., which will boil water more efficiently than narrower-diameter mugs. For partnered trips, I'll bring a 1-liter titanium pot suitable for cooking for two, a Lexan cup (no burned lips) and probably switch to a canister stove for faster cooking. A mini-Bic lighter without back-up is ok if you're careful not to get it wet. If it fails from moisture, putting it in a dry pocket will soon get the spark firing again. For utensil, I use a .4 oz. lexan Humangear Uno Spork, a combination fork/spoon. The old standby LightMyFire Spork has a knife feature as well, but it breaks in the middle a little to easily.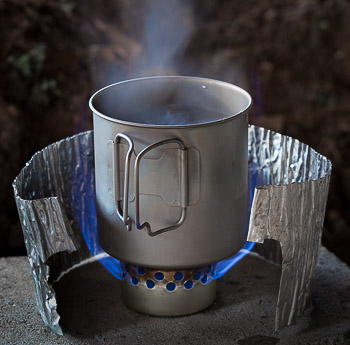 Stoves: Canister or Alcohol?
For many years I've used a canister fuel stove for backpacking, a 3 oz. MSR Pocket Rocket. These stoves are light-weight, quiet, fast to boil, simmer well and are fuel efficient. The small (MSR) canisters (approx. 3.9 oz. fuel) weigh 3.5 oz. empty (large 8 oz. fuel MSR canisters weigh 4.6 oz. empty). If you burn all the (small canister) fuel, you'll still be packing out 6.5 oz. and then have a canister to dispose of.
A homemade alcohol stove made from a Bumble Bee or Fancy Feast can weighs about .6 oz. They are super-light, stow in your mug, silent, slow to boil, (generally) simmer poorly, and need twice the fuel weight to match the energy content of canister fuel. Denatured alcohol can be purchased cheap by the gallon at home improvement stores at one-fourth the cost of canister fuel, or you can burn Heet (methanol, yellow bottle), available at convenience stores. Alcohol fuel can be simply carried in the field in 8 or 16 oz.-by-volume, re-used water bottles that weigh next to nothing. Mark these converted bottles with a skull and crossbones. Make your own stove by following Andrew Skurka's lead at http://www.youtube.com/watch?v=pajkt594Ruw.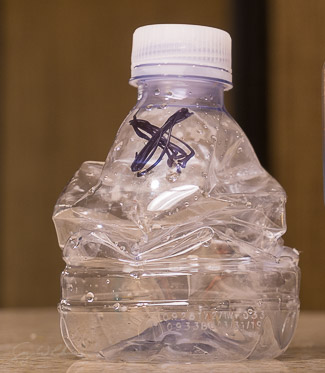 For a solo overnight, alcohol is lighter by 3 or 4 oz., with volume savings because everything can pack inside your pot (mug), including the alcohol bottle (I had to squash mine to fit). For a longer trip, alcohol is still probably lighter than canister by an average carry weight of an ounce to two, even if you start the trip heavier because the alcohol fuel weighs more.
Footware
A huge benefit of getting your pack load below 30 or so pounds is you can chuck the hiking boots. I was wary of doing this, worrying about ankle sprains or other injuries, but after several years backpacking with trail running shoes, I've had fewer foot issues compared to boots: no ankle sprains and fewer blisters. Hiking in a light-weight shoe is a joy. You move naturally faster, with less effort. Every time you lift a foot, it's exertion—roughly fivefold more work than if the equivalent weight was in your pack. My trail running shoes weigh 23 ounces; my last pair of light-weight boots weighed 52.
For summer trips, I like the non-Gortex trail runners because they breathe better, and weigh less. For spring and fall, I prefer Gortex for warmer feet, though with time on the trail they lose some of the waterproofing. Shoes wear out faster than boots, but they're cheap, so it's not a problem having a couple pair. To go with the shoes, a single pair of medium wool socks is usually adequate. There is no need for the liner sock/thick-wool-sock combo required to prevent blisters when backpacking with heavy boots and pack.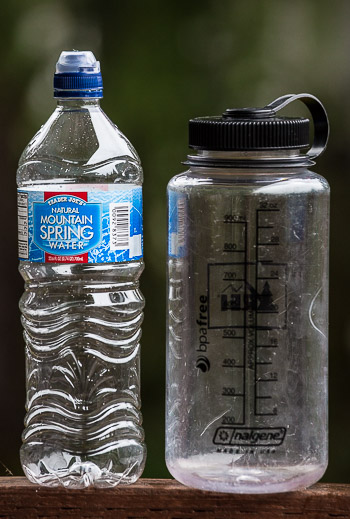 Water and water filter
A 23.6 oz. re-cycled water bottle weighs .7 oz. A 1-liter (33 oz.) Platypus bottle is .8 oz. A 1-liter Nalgene bottle weighs 6.2 oz, so this is a no-brainer. Pick a re-cycled water or soda bottle that fits the side pouch of your pack, or carry the collapsible Platypus. I don't recommend hydration-style reservoirs for water storage. They're heavier, harder to clean and store and you don't know at a glance how much water you have.
I like pump (or squeeze) water filters. They keep getting lighter, and are adequate (US and Canada) wherever viruses aren't an issue. The light-weight Sawyer (4.5 oz.) or the Sawyer mini (3 oz.) squeeze filter, the choice of Pacific Crest Trail thru-hikers, is my current choice as well. The Sawyer comes with a Mylar bag that you fill with (dirty) stream water. Attach the filter, and then squeeze or roll it up to push water into a clean water bottle (or your mouth). It's about as easy to use as a pump filter, but lighter. One issue is it's difficult to fill the dirty bag from shallow, still sources. Plan to sometimes use a mug, or a gallon ziplock bag, to fill the dirty bag.
As a light-weighting measure, when it's practical I carry only a few ounces of water (16 or less) on the trail. Instead, I hydrate heavily at the start of the day. Then after the water runs out, I stop and filter, again hydrating heavily. Quoting Ryan Jordan (from Clelland's tip 101) "If you arrive at a water source with water still on your back, you have made a mistake." You absolutely need to stay hydrated, but in many backpacking destinations, good water is never far away. With a difficult climb ahead, I prefer this strategy to carrying more water, or to using chlorine or iodine tablets: you have to wait for chlorine and iodine tastes bad. Neither one appeals.
Trekking poles
I'm not a fan of trekking poles. Less is more, so they need to be justified. When you pull out your camera to shoot hand-held during the day, and perhaps walk along holding the camera looking for a shot, where do the poles go? Maybe they ease the burden going downhill? Prevent tripping? For river crossings, find a stick. If your load is under 30 lbs., I'm unconvinced.
Food
Plan your food menu around caloric needs, and shoot for 120 calories/ounce. You'll have to determine how many calories you need per day from experience, but 3,000 to 4,000 calories/day will cover most backpackers. For a long time I planned 2 lb. of food/day, then it was 1.8. I always had food left over. Pack a mix of nuts, dried fruit, cheese, granola, pita bread, salami. Pick foods high in fat. Plan one-pot meals with a base of minute rice, instant mashed potatoes, couscous, ramen or angle-hair pasta. For partner trips, try Knorr/Lipton Sidekicks. I like salty snacks like Fritos, which are, as Mike Clelland says "nothing by corn, oil and salt . . . and 160 calories per ounce". I never pack freeze-dried. They're light, but the dinners don't pack enough calories, and they're expensive. I shop at Trader Joes, almost a one-stop shop for nutritious backpacking foods, including vege snacks and chocolate. Trader Joes is light on packaging, but be sure to re-package as needed to reduce bulk and weight.
In bear country with trees, stow your food in a silnylon (4L, .8 oz, 8L, 1.1 oz) drybag. You don't need heavy line for hanging. Use 50 ft of PMI 2mm utility cord, $.15/ft at REI, plus a keychain carabiner. A stow sack big enough for a small stone is handy to make throwing the line over a tree limb easier.
Dinky items: Easy to overlook, but the weight and bulk add up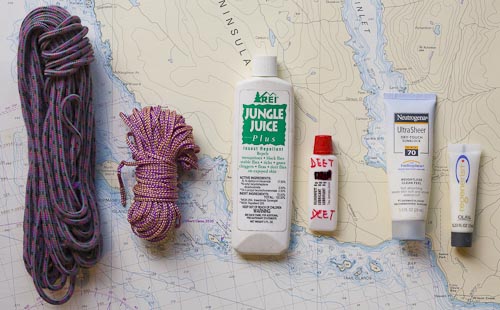 Headlamp
For a backpacker, a headlamp is practical illumination. For a photographer, as a night-shooting aid, pick a headlamp with a red light option to preserve your night vision for easier viewing of the stars. I use a 1.7 oz. Mamut s-flex, which runs on a single AA. If I'm not planning a night shoot, however, I prefer my bright, reliable, 3.0 oz. Petzl Tikka, also better for night hiking.
Sunglasses
I wear eyeglasses, so I carry clip-on sunglasses. The best I've found is from Costco ($13, .4 oz.), which I carry in a small ziplock, not a case. Lightest of all are roll-up sunglasses. You may be able to get them free when you get your eyes checked, or they're available at Amazon, 3 for $9, weight 2 grams, or less than .1 oz.
Whistle/Compass
The Coghlan's four-function whistle, .8 oz., includes a whistle, thermometer, compass and magnifying glass in a light-weight package. Mulit-use tools save space and weight.
Credit card
I wrap credit card, driver's license, car key and a $20 with a rubber band and stow it in a zippered pack compartment that I least need to access. My wallet stays at home, not at the trailhead.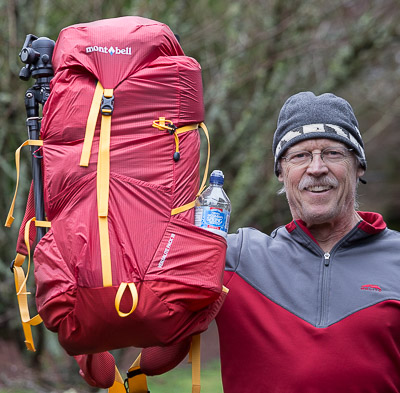 Go-Box
Put all the essentials for an overnight trip in one box. Clelland calls his the "Go-Box". The spontaneous afternoon decision that propels you to a trailhead a few hours before sunset can only happen if you're ready. And ready includes food, so have a breakfast and dinner ready to go as well. Deploy a separate box for photo gear—with lenses clean, cards cleared and batteries charged. That lenticular-cloud sunset beckons.
I neglected a few things—personal hygiene, medical kit and repair kit come to mind. Regardless, I hope this helps your backpack photography, helps get you up the trail to remote, magical destinations. As well, I'd love to hear from you. Leave a comment if you have light-weighting advice you'd care to share, or agree or disagree with my findings.
Happy trails
Gary