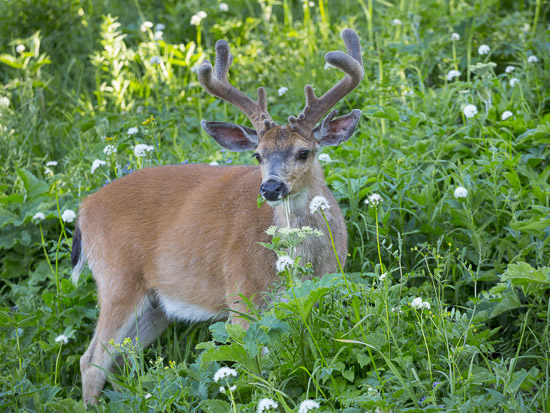 In musing about the mixed success of my recent visit to Hurricane Ridge at Olympic National Park, Washington State, scouting looms large in capturing the best images.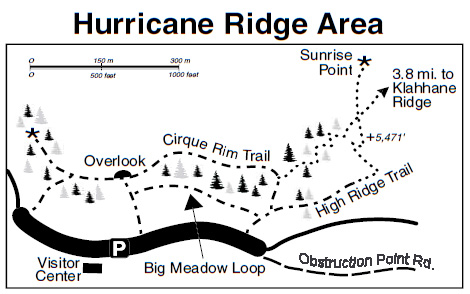 The third week in July reigns as "f/8 and be there" time for Hurricane Ridge. Big draws are the blacktail buck, mountain scenics, wildflowers—and as always at this time—the fawns that accompany the adult female deer.
This year, I quickly discover, has its challenges. Lupine are sparse; the open meadow is all stinky socks (American Bistort) and pushki (Cow Parsnips). The sky is cloudless blue, i.e. harsh mid-day light and no drama magic hour. Obstruction Point road—a personal favorite—is closed to vehicles with sequester as an excuse. On the plus side, golden morning and evening light has potential for wildlife. Roadside wildflowers are showy along the serpentine paved road. Woolly Sunflower explode at road edge. Amber Columbia Lily front swatches of jade. The snow and glacier-capped mountain backdrop, as always, is glorious.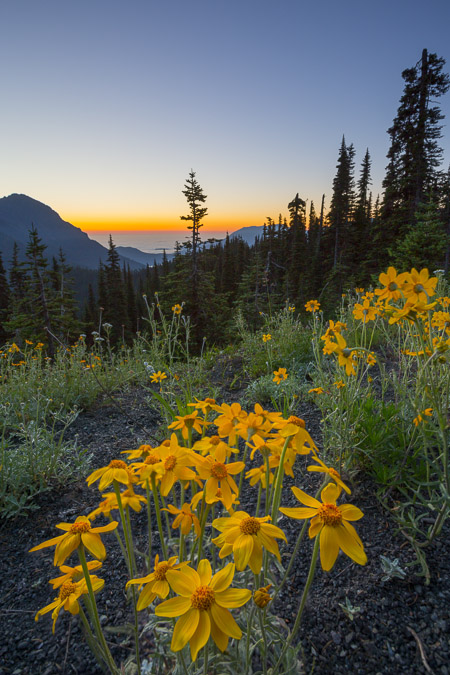 I discover all this with few clicks of the shutter. From the Park entrance upward, I'm scouting. I stop at pull-outs on the way up, hop out of the car and walk both road edges scanning for photos, looking for wildflower portraits and scenics. I take mental notes, rank potential and plot a return as time and light allows. I carry binoculars—only sometimes a camera—as I cover the ground more efficiently unencumbered. When two blacktail buck in velvet get my attention—a lost shot if I don't act—I quickly go to the car, grab big lens and tripod, and photograph the bucks feeding on Sitka Valerian. If I wasn't walking the road scouting, if I was just driving by, I probably would have missed them. The bucks are in shadow, so the harsh mid-afternoon light isn't an issue.
I reach the Visitor Center parking lot about 5pm, early enough to walk the trails, study the many doe and look for fawns. I walk all the paved trails and note sunset and sunrise locations, then grab the 500 f/4 and tripod and set-up to photograph fawns in sweet light. Later, after shooting the sunset (a cloudless bust), I'm the last to leave the parking lot. My camp is at Heart O'the Hills, 12 miles from Hurricane Ridge, an easy respite for the next morning's shoot.
4am comes early, but I'm up with coffee in hand and driving the Ridge road in semi-darkness. At my first scouted sunrise spot, I set up and capture the scene, Woolly Sunflower at sunrise. Then it's up to Hurricane Ridge and more fawns.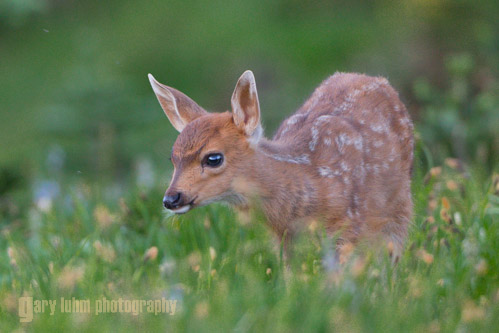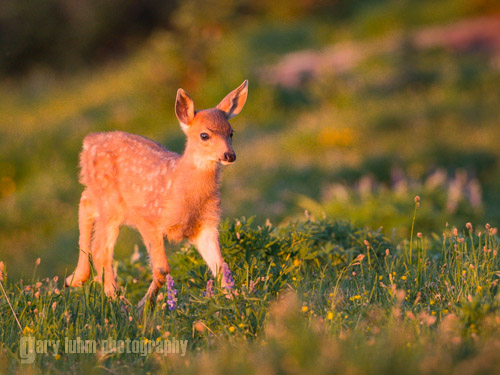 Mid-day, I'm back at my campsite, napping, reading, early dinner, then back to Hurricane Ridge. More scouting. I keep passing on distant does with fawns, and toward evening I haven't found a good situation. Every other photographer has left the parking lot—gone to dinner, hotel or camp. I'm ready to pack it in, too, when a doe and fawn appear, as if from ether, above the parking lot between the asphalt High Ridge and Cirque Rim trails. I walk up the trail toward them, slowly, and decide to photograph while sitting on the asphalt. The low angle has potential, and sitting down puts the fawn at ease. Doe and fawn move closer and I get some nice frames. They then amble into the trees, but the light is golden out the other side, so I move up the trail—the Cirque Rim Trail—hoping they'll emerge in waning sunlight. Sure enough, they do, and when I back off up the trail, they follow me like I'm part of the herd. I get some sweet-light shots of the fawn scampering toward me. What a thrill!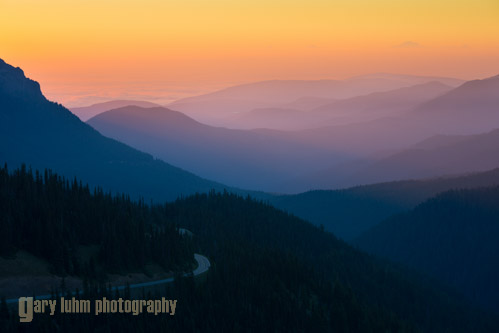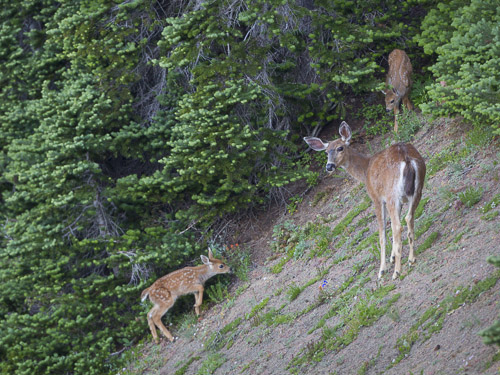 The next morning I'm back, first one at the parking lot, and I climb the High Ridge trail for another pre-scouted sunrise. The hills layer toward a distant Mt. Baker; a short telephoto eliminates the uninteresting blue sky. Soon, I'm back down near the east end of the parking lot, where the day before I'd seen the only doe that had two fawns. After a short wait, they appear, a bit far off, and they move east out of sight, but I parallel them by walking the still-closed (to autos) Obstruction Point road. I manage to get a few photos, and the walk proves particularly provident when I discover an Olympic marmot on a great perch, one of my favorite shots of the trip.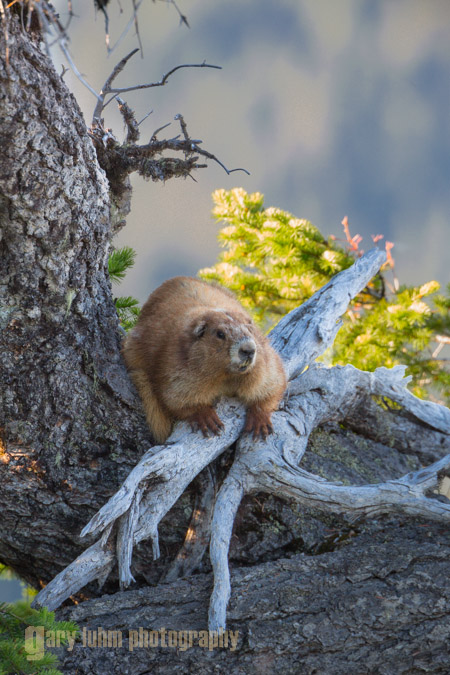 Scouting proved itself once again on this multi-day photo shoot. Scouting garnered all the scenics; scouting, patience and anticipation got the fawn shots; and walking (scouting) and a bit of serendipity got the marmot.
Postscript: If you haven't been to Hurricane Ridge and are looking for a photo workshop, Rod Barbee leads workshop tours every year at Olympic National Park during July's showtime at Hurricane Ridge. I watched Rod work with his group during my trip. He's a dedicated teacher; you couldn't ask for more. Have a look at his blog post of the 2012 Olympic National Park workshop. He'll be back again in 2014.