I received some nice complements for my "American Dipper with salmon egg" photo, taken on a recent Seattle Mountaineers outing—complements like "great shot", "outstanding!" and "great vision".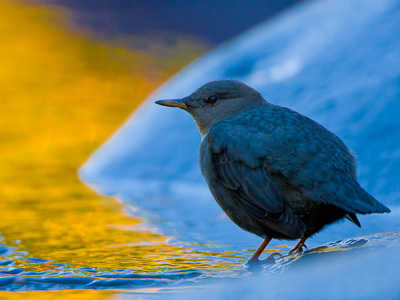 I'm flattered by the "vision" thing, though I'm not sure what that means. Vision implies seeing the future, in a non-obvious way, like getting a patent. I do a fair amount of "pre-visualizing"—dreaming up images in my mind and then seeking that in nature. But this impulse usually comes from something I've witnessed—like seeing an osprey catch a fish and saying "I wish I'd caught that on film." From there I may take a small step, like "I wish I'd caught that on film, in such-and-such light, at eye level, maybe with a green poster-like background.  I might then find or research a suitable location, and, of course, plan to have my camera in hand.The "Dipper" was photographed at Eagle Creek in the Columbia Gorge, Oregon. I did pre-visualize it—sort of—and went to Eagle Creek for morning light with the hope of capture. I say sort of, though, because the thing is, the photo was years in the making, a product of small, incremental steps. The easy click of the shutter that captured the image would never have been without learning about the bird, seeing the potential (incrementally and multiple times), planning to be there in the right light and time, and finally sticking with the idea to make it happen. It took only a little imagination and a bit of  tenacity—with some intervening procrastination. The push of the shutter began ten years ago.One November (or late October) in the late 90's I was photographing fall color at Eagle Creek. I was going for the gold reflections of sunlit Bigleaf Maple on rippling water amid a pattern of black rock. An American Dipper hopped serendipitously into the scene, and I captured it with a 300mm lens. The Dipper was small in the frame, a dark little accent in gold. Not a great shot, either, but I could see the potential. It was also a shot easy to miss for a photographer standing on the bank. The Dipper was difficult enough. But to see the gold reflections, you needed a conscious move to get low.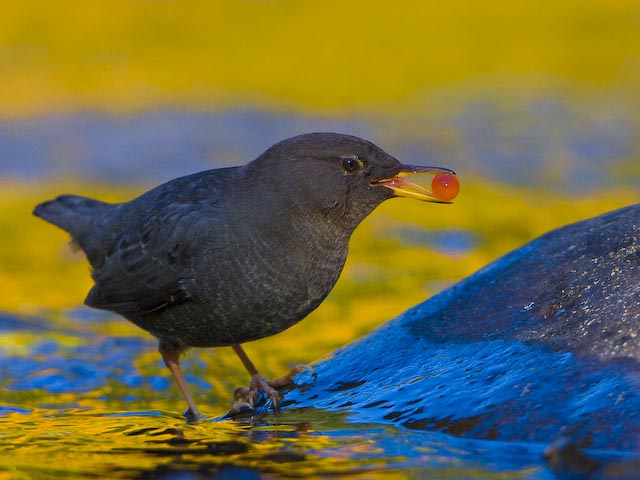 A few years later I was back at the same spot, again in the gold color of fall, and made another discovery. The Dippers here were actually quite numerous, and attracted by a high-quality food source—salmon roe. It didn't take much to revise the pre-vision: dipper in gold light, with a salmon egg. I chased Dippers around that day in overcast light, and settled for a Dipper with salmon egg in dull greens and greys.
Last month finally I was back again, under blue skies and at the right time of day (late morning). I scouted the stream, picked the place with the most golden reflections, and donned waterproof pants. I sat down at streamside with a 500mm f/4 pointed at a rich gold and blue (the blue from the reflecting sky). I was sitting to get the low angle—best for capturing the reflections—as well as shooting the bird at close to its eye level.  As I scanned the scene of gold there were no Dippers in the viewfinder, but since what I wanted was the light, the prudent thing was to wait for a Dipper to fly into it, rather than chase Dippers with chance backgrounds. There were lots of Dippers about, and with their territorial feuding, it didn't take too long before a bird moved into the frame. I moved only a few feet to line up the background before capturing my original pre-vision, a Dipper with reflected gold. Then, pigheaded, I slid back to my first sit spot. A few minutes later I got the Dipper with roe—enveloped in gold—and ten years in the making.
Gary