An early November, 2008, guided trip with Sea Kayak Adventures to Baja, Mexico's Sea of Cortez, an ideal time for warm water, pleasing temperatures, moderate wind, and—lucky for us—blooming wildflowers in the aftermath of hurricane Norbert.
We cannot display this gallery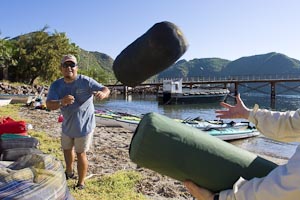 November, 2008, Loreto, Baja, MX. My wife Kate and I are on a guided kayak trip with Sea Kayak Adventures, joined by a few college friends and other guests to make up a 13-person contingent, not including the three guides and owner Terry Prichard. I love Baja, and I've chosen November for the trip for the warm water, reduced wind compared to winter and the relatively the low sun angle. There was also the moderate probability that a late-season chubasco would pass though, greening the Sonoran desert.
We got the chubasco—in spades—with Hurricane Norbert. It bloated cactus, caused a wildflower bloom and hatched a lot of insects. The desert was alive and gorgeous. We got some wind that kept us inshore or on the beach a couple days, but it was nothing like the El Norte that sometimes blows down the Sea of Cortez in winter.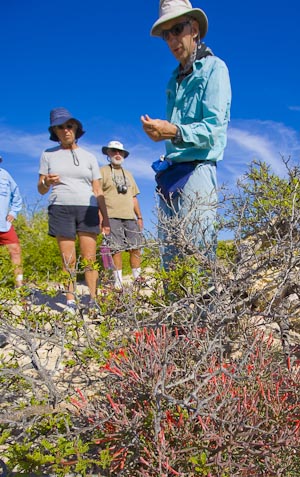 We paddled out of Puerto Escondido, 15 miles south of Loreto and into the azure Sea of Cortez. After distributing gear and a quick lesson on the forward stroke by lead guide Charo, we were off to Isla Danzante. We lunched at a tombolo at the north end of the island, then paddled a lush, blooming-green and red-rock shore to our first camp. Once ashore, we schlepped the heavy kayaks up the beach with teamwork. Kate and I pitched our spacious MSR tent, threw in our Thermarest pads and sleeping bags—gear supplied by Sea Kayak Adventures—and set off exploring.
At dusk, we hiked toward a saddle on Danzante that promised a good view. The trail wound through a lovely biome, with smoke trees, organ pipe cactus and elephant trees that reminded me of California's Anza-Borrago. San Miguel vine flowered profusely, bats buzzed by and every 100 feet or so a huge spider web blocked our path. We eventually retreated after the third or fourth face slap from the spider webs.
The guests on the trip were mostly US west coast residents, except for my friends from old stomping grounds in the midwest, and one bloke from Britain.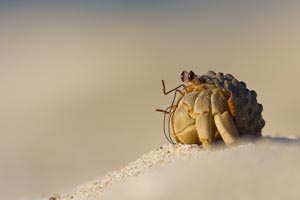 The next day we were scarcely on the water when our flotilla paddled smack into a huge school of Mobula rays, a smaller cousin of the Manta ray. A thousand wing tips churned the water to a froth that looked like a tide rip, and Terry—in 20 years of paddling here—was shouting he'd never seen such a sight. Later, we stopped for a break and a snorkel at a place they call the Aquarium. Yellow butterflies swarmed our beached kayaks like confetti from heaven.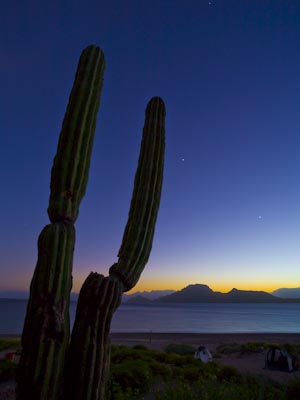 What followed were blissful days and starry nights, and warm weather and water perfect for snorkeling. We crossed the channel to Isla Carmen, and camped three nights on a white sand beach. Our days were punctuated by short paddles to snorkel spots and hikes to explore the flora or visit scenic points of land—full but easy days. Terry and Charo explained Sea of Cortez geology as well as desert plant adaptation. The guides served up delicious meals. Everybody but me (I was too busy photographing) enjoyed cocktails at sunset (5:30pm) while sinking their toes in the warm sand, dipping into ceviche, and gabbing while sitting in lawn chairs before the evening meal.
For many kayakers, a trip to Baja is like a religious experience. This Sea Kayak Adventures tour was no exception.
Aah, Baja!