Edited 5/16/2012 Re: Case 5
On a recent shoot with the Canon 5D Mark III, I was photographing a Yellow-rumped Warbler, hand-holding a 500mm f/4 from a kayak. Routine for me—and should be routine with the new 5D III—but the camera failed to pick up the bird. I was on the bird with a focus point, finger depressing the shutter, and no release. I kept yelling (to myself), 'pick it up! pick it up!' The camera didn't focus. The bird moved off. I missed the shot.
Disappointing, but bird photography is 90% disappointment (and 10% ecstasy) if you're pursuing tough shots, and in this case I knew why. Canon has given shooters control over autofocus processing like never before. It's for us to configure the set-up.  I had meddled with the control variables, to the detriment of the warbler shot.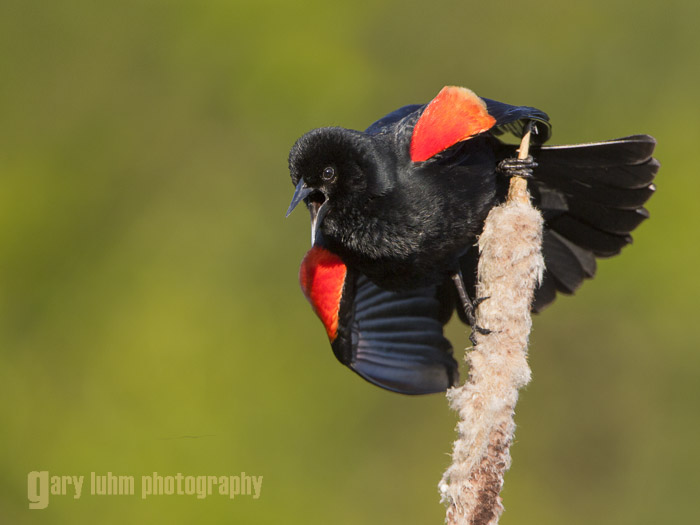 For Canon shooters—since the advent of the 1D Mark 1V and then the 7D—we've been given progressively better autofocus tools.  The Canon 5D III and 1D X are another leap forward, with selective control to match specific subject movement.  Canon has posted on-line guidebooks for the 1DX and finally (thanks Biju Arayakkeel for the heads up) for the 5D III. They do a thorough job explaining how to apply these new tools. See Canon 1DX AF Settings Guidebook and Canon 5D Mark III AF Settings Guidebook. Even if you're a Canon 7D shooter, the explanations are useful, excepting that the 1DX and 5D III have more control options.
First, some set-up options you should use for bird-in-flight (BIF) photography, regardless of camera: Set the drive mode to Continuous (H), shoot in AI Servo (moving subjects) and pick an ISO of 320 for the 7D and 800 for the 5D III (even higher in low light). Photograph in manual exposure mode (M) unless the light is changing sporadically, as it might on a partly-cloudy day. For that case, use aperture priority (Av), and dial in exposure compensation as needed. Turn your lens stabilization switch to ON. If the lens has a mode 1 or 2 switch, set that to 2. If your lens has a distance limit switch, set it appropriately to reduce hunting. Additionally, shoot in RAW—it gives you more to work with in post.
Canon has put the 5D Mark III AF (and 1D X) functions all under one, magenta-colored menu tab, within which are five screens (AF1-AF5). We'll look here at the first two, but especially at the first one—the Configuration tool—where we find control options to match varied shooting situations. Canons uses sport scenarios to make the match simple. For bird-in-flight (BIF) enthusiasts, I've gone a step further, translating each scenario with a bird image.
The Configuration tool has a column of six tiny sport icons, each representing an AI Servo set-up to match subject movement for the particular scenario. For example, Case 1, the default, has a runner icon, appropriate for many if not most situations (think big bird in flight). All the Cases manipulate three distinct control parameters (only the first one of which is available to 7D shooters): Tracking sensitivity, Acceleration/deceleration and AF point auto switching. Let's digress a minute and discuss what each of these means, for BIF instead of sports.
Tracking Sensitivity.   Controls focus when another object intrudes on the subject your tracking. When you lock on a bird (in flight or moving through the branches), and an object interferes as you track it, should you stay with the original subject (-1,-2), or jump to the interfering one (+1,+2)?  For example, you're tracking a falcon, and a shorebird flock rises up in front of it. A minus tracking sensitivity tends to stick with the falcon; a plus one goes with the intervening flock.
Acceleration/deceleration.   For birds that change speed (accelerate), faster or slower. A duck comes at you, spreads its wings, decelerating to land (+1,+2). For a human sprinter coming right at you, Canon goes with 0 (constant speed). A medium-sized bird at 20mph, or a small bird, flying obliquely toward you, a +1 should return more keepers.
AF point Auto Switching. This control only applies if you're using one of the Point Expansion or Zone (multiple focus points) Area Selection Modes. It's not available if you're using Single Point (or Spot) AF.  It sets how rapidly the AF point switches to a new AF point. Say you lock on a bird, and it banks and moves off as you're firing. A +1 or +2 tells the camera to change focus points and stay on the bird. Best used with 61-point automatic selection AF, to give you the whole range to switch to. Note: In my use of the 5D III so far—with medium-sized birds—the camera isn't reacting fast enough (well, I'm not either). But I now think AF point Auto Switching is useful, and may be the ticket on select tough shots.
OK, back to the six Cases, and which to use for BIF scenarios: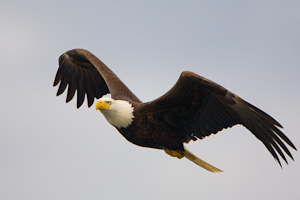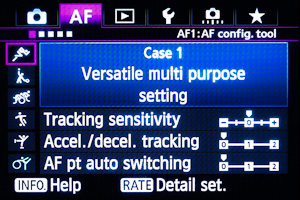 Case 1. Versatile (default) setting: 0,0,0. Good for medium or large bird in flight, open terrain, not flying right at you. This could be your standard setting, unless you like Case 2. The 5D III gets on the bird and stays steadily on it if you stay on the bird. Example: Bald eagle.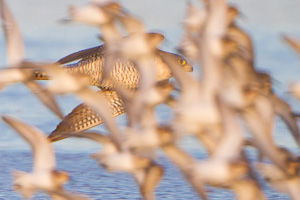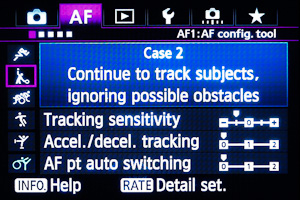 Case 2. Ignore obstacles and keep tracking subject: -1,0,0. Example 1: Peregrine Falcon. You're locked onto a Falcon as it ducks behind a flock, and you want to stay on the falcon. Example 2. A medium-sized bird in thicket where you want the camera to ignore interfering branches as you follow a birds movement (use the Single Point Spot AF as well).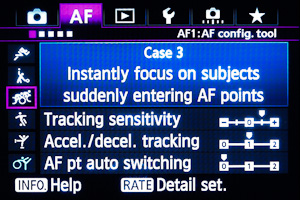 Case 3. Instantly focus on foreground (i.e. obstacle becomes subject): +1,0,0. Example: You're photographing a flock. It makes sense to pick up the nearer birds. Or consider a pair of birds in flight; makes sense to grab the near bird, not the far one, even if you started with the far one.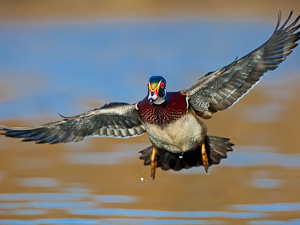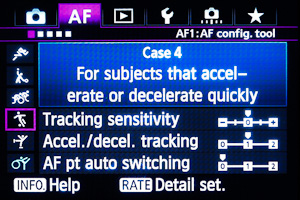 Case 4. Large or medium bird coming right at you, coming in for landing or whizzing by: 0,+1,0. Example: a Wood Duck leaps off the water, flies at you, and spreads it wings to land.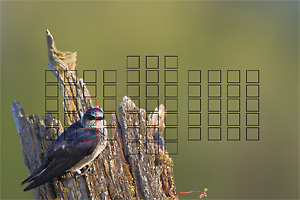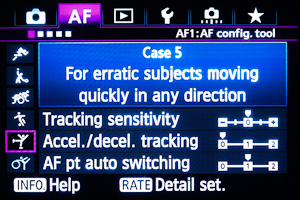 Case 5. For birds that change direction, leap latterly off a perch, or when you have difficulty staying on it.  0,0,+1. Useful especially with 61-point AF expansion, and non-busy backgrounds, for example by parking the bird at a corner AF point, in anticipation of it flying "into" the frame.  May not be quick enough for small and medium birds. Raptors chasing each other could be a good application. Or the irregular wingbeat of a woodpecker.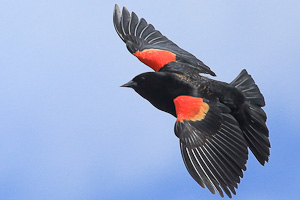 Track, accelerting/decelerating, AF switch. Medium and smaller birds changing course.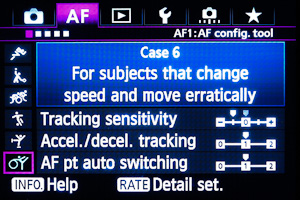 Case 6 (customized). Small or Medium-sized bird coming at you or flying obliquely toward you. You have difficulty staying on the bird because it's small and fast: -1,+1,+1. I've customize this to add a -1 Tracking. You don't necessarily want to change focus points, but you surely don't want to focus on the background if you lose the point. And the bird is changing speed. So far, I've had success with this setting for Red-winged blackbirds in flight, and smaller birds in thickets.
The second screen (AF2) under the AF tab also needs consideration. It sets up AI Servo focus or take-a-shot priorities. When you press the shutter, what should happen? Do you want the camera to assure focus before release, or not wait so long and capture the image even though it may be out-of-focus?  (7D shooters have the same set-up option. Or dilemma.)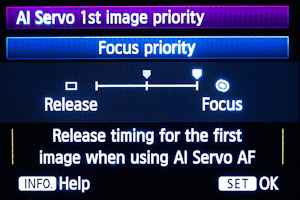 I've set-up my 5D III to favor focusing for first image priority. So—as with the Yelllow-rumped Warbler—I can see why the camera didn't immediately grab the shot. I was in a moving boat, and though it didn't seem a difficult shot, my focus point may have strayed as well, and I was using the Spot Single shot, because of potentially intervening tree branches. In any case, I'm sticking with focus prioirty for now.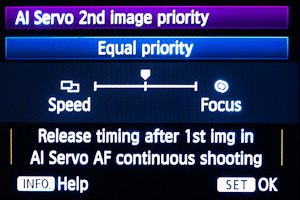 After some deliberation, I've set my second image priority to split between focus and shoot. Once on the bird, I think getting some shots rapidly is at least equally important.
Summary. No control scheme is perfect. A quick response might get you a shot, or be unstable and hence miss even more.  I'm pleased we've been given some control. Go with the settings you think best matches your situation, and be prepared to make changes to match conditions in the field.
One more note: Put your settings back to your personal defaults after every shoot. When you next pick up the camera, you want to start from your known baseline.
Gary