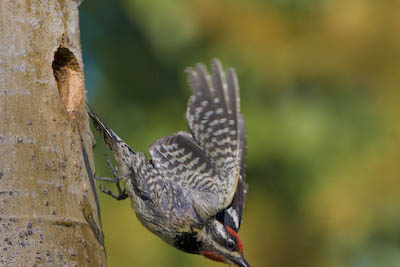 Edited 3/15/2013. Photographing with today's  digital SLR's is the stuff of dreams: sub-$1000 cameras, instant feedback, cost-free shooting, on-the-spot ISO change, image quality superior to 35mm film. One consequence is we shoot way more, but taking advantage of digital isn't just filling 32-GB cards in the hope of getting the shot.  As always, it still involves planning, scouting, waiting for good light and analyzing the set-up. It also involves thinking about what comes next—that is, thinking about the computer.
While still in the field, use that field situation to create images of the imagination. Like taking a series of shots to stitch into a panorama, or plopping out-of-focus backgrounds above horizontal captures to later produce verticals for publication. Or—as in the following example—making up for a slow reaction time in snapping the shutter.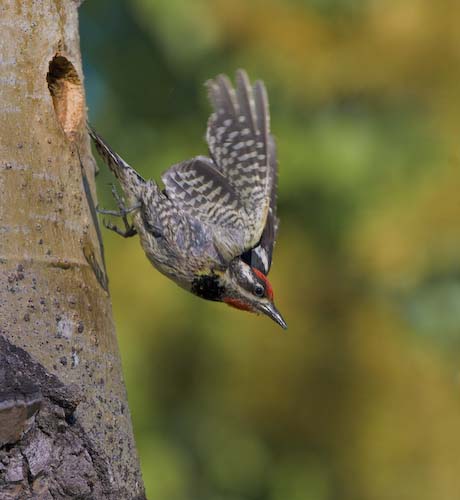 A recent shoot in British Columbia illustrates. I did some tight framing at a Red-naped Sapsucker nest that resulted in a half-clipped bill as the bird left the hole. Beforehand, I could have stepped back a bit for a bigger frame and a better chance at capturing the bird in flight, but I was going for a more frame-filling bird, a poster-like background, and perhaps a bigger challenge. When I saw the clipped bill—a direct result of my tight framing—I immediately took a companion shot lower down on the trunk, to merge with later. I reasoned that I might paste the two together, and, equally important, splice in a bill from a third image that matched the lighting on the first.
Back at the digital darkroom, I put the two images together in Photoshop, and then grabbed a bill from an earlier shot that best matched the clipped one.  I discovered that I needed to replace the whole bill, not just the missing half, because there simply wasn't a good match for a half-bill replacement.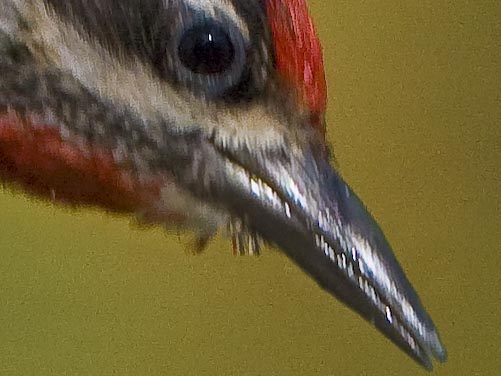 As a bonus, though the camera I used was a 10.1 MP Canon 40D, the derived image is an almost square 15.4 MP, not too shabby for enlargements, or for cropping to fit horizontal or vertical layouts.
It's amazing how the new crop of SLR's—and the software that goes with them—are expanding the possible in photography.
Gary