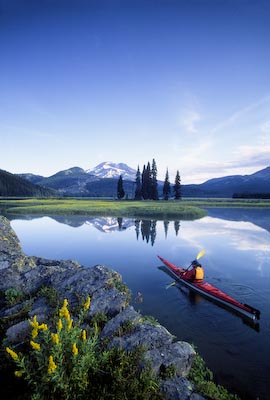 A missing element to make many a great scenic saleable can be pretty obvious. It's an element that's also ignored, overlooked, forgotten and even belittled by us nature photographers. Yet it's an element we find endlessly fascinating, an element that grabs the attention in every scene. That element, of course, is  people, and  there's no denying that images of people sell. Plop a red-coated hiker in a green rain forest, and you've got a subject that will draw the eye like a laser, even if he's dwarfed by the moss and ferns and engulfing  trees.
A trip to Oregon's  Sparks Lake is instructive. Ray Atkeson, Oregon's photographer laureate, regarded Sparks as his favorite — or at least his favorite accessable — location.  It's off the beaten path, and off the radar, of most outdoor shooters .  June through August a progression of wildflowers adorn the shore, and the volcanic cones of South Sister and Broken Top form a dramatic backdrop. But it's the middle ground —  a perfect diamond of fir reflected in the lake —  that gets the photographic juices flowing.  Atkeson has a lock on scenics here, adorned with fabulous skies. Tough to emulate; but also tough to sell. So my scenics include people. The result has been two four magazine covers, plus other published images, from this location.
We did a July trip down the Green River in Canyonlands National Park, UT, a few years ago. Keeping cool was a priority, and a canoe paddle splash fight erupted at a rest stop. I got one quick photo before the group energy turned on me. I raced away, camera tucked like a football to fend off the splash. And what image sold first from that trip? Not my carefully-constructed canyon wall scenic in golden light, nor the sunlit river engulfed in an evening storm. Canoe&Kayak used the splash fight image in a spread it called "Choose Your Weapon", an article about selecting a paddle. And why not: it shows the most interesting of animals engaged in spontaneous fun.
Gary
Edited 3/3/2013